As soon as it emerged that a Syrian passport of questionable provenance had been found close to the scene of Friday's terror attacks in Paris, media outlets quickly reported what many commentators had feared: a Syrian jihadi posing as a refugee had come to Europe to commit murder.
The furore around the reports has led to nearly half the states in the US to declare they will not allow Syrian refugees into their provinces, with some American political figures citing the potential threat posed by Isis as one of the main reasons.
In France itself, far-right National Front leader Marine Le Pen has called for an "immediate halt" to Syrian immigration in response to the atrocities.
Social media, posts about ISIS's ability to "penetrate" swathes of Syrians entering Europe having fled the war-torn nation have gained traction, garnering hundreds of shares and 'likes'.
Meanwhile the sentiment has begun to be used by people sharing articles following last week's terror attacks in Paris.
But as the chart below demonstrates, the sheer volumes of those fleeing Syria's civil war greatly outweigh those travelling from Europe to fight in Syria - and they pale in comparison to the one alleged Syrian perpetrator reported to have been involved in the Paris attacks.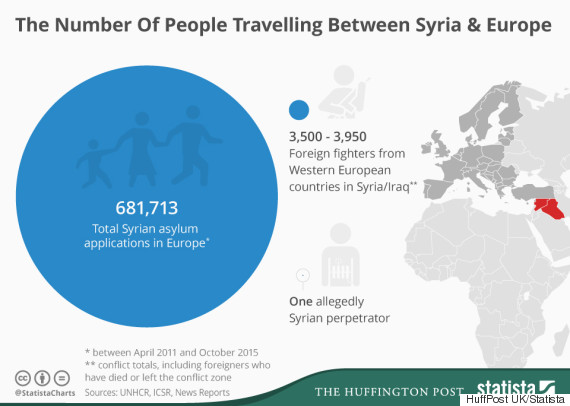 Click here for a zoomable version of this chart produced for HuffPost UK by Statista
Some 681,713 Syrians made asylum applications in Europe between 2011 and 2015, according to the UNHCR.
Around 3,500-3,950 fighters from Western European nations are thought to have travelled to Syria and/or Iraq in the same time period, including those who have died or left the conflict zone.
While just one allegedly Syrian perpetrator has been reported as being involved in the Paris terror attacks - and these reports are becoming more dubious as more is known.
Additionally, from what we know so far about the perpetrators of the attacks in Paris, all but one were French or Belgian-born nationals.
SEE ALSO: