The New Zealand star played 63 Tests for the All Blacks scoring 37 tries and still holds the record, in partnership with South Africa's Brian Habana, for the most tries - 15 - in a Rugby World Cup.
He suffered from a rare kidney condition that forced him to retire from the sport in 2002. His family have said his death was "totally unexpected".
He had a kidney transplant in 2004 and then continued playing at an international level until 2007.
According to the New Zealand Herald, Lomu died of a cardiac arrest, while surrounded by friends and family in his Auckland home.
The newspaper quoted Lomu's wife as saying the former All Blacks' death was a "devastating loss".
She said: "It is with great sadness that I must announce my dear husband Jonah Lomu died last night. As you can imagine this is a devastating loss for our family."
Former All Blacks doctor John Mayhew said in a statement Lomu died unexpectedly on Wednesday morning.
"On behalf of the Lomu family, I can confirm that Jonah Lomu died this morning, most probably about 8 or 9 this morning" Mayhew said. "The family are obviously devastated, as are friends and acquaintances.
"The family have requested privacy at this stage, they are obviously going through a terrible time. It was totally unexpected. Jonah and his family arrived back from the United Kingdom last night and he suddenly died this morning."
Lomu began his rugby career in Rugby Sevens in 1994, then moved into XVs playing in the historic 1995 World Cup final against South Africa, where he was named player of the tournament.
His combination of size, speed and pure power saw him destroy many a defensive line. His barnstorming try against England in the 1995 semi-final has been named the greatest moment in rugby history.
New Zealand Rugby chief executive Steve Tew, said: "Jonah was a legend of our game and loved by his many fans both here and around the world.
"We're lost for words and our heartfelt sympathies go out to Jonah's family."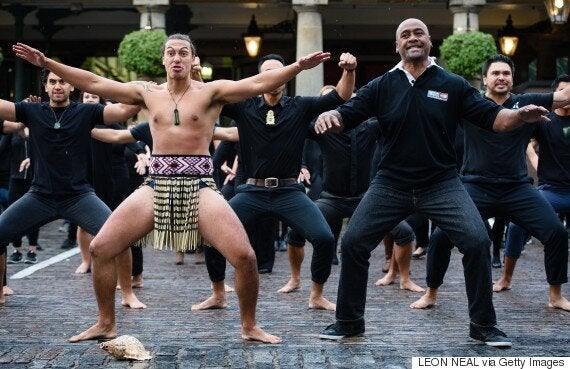 Jonah Lomu pictured in September with members of the Ngati Ranana London Maori Club in London.
Lomu's record in rugby still stands him as one of the greats. He was the youngest All Black to make his Test debut in 1994 aged just 19 years. He won a Commonwealth Games gold medal with the New Zealand Sevens in 1998.
He was however never to win a Rugby World Cup, coming closest in 1995 in the classic final against the Springboks - a match now immortalised in the film 'Invictus'.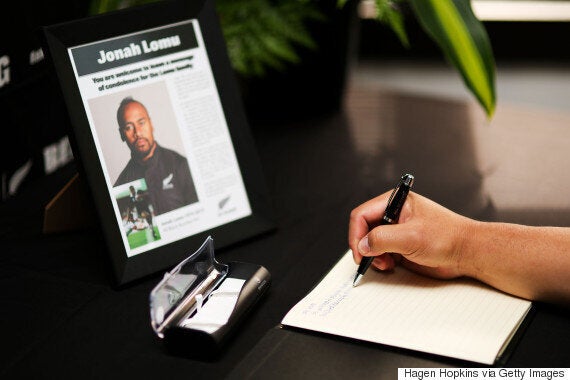 A well-wisher signs a condolence book at New Zealand Rugby Union headquarters.
Lomu had been in the UK to watch the All Blacks win the Rugby World Cup, and had then visited Dubai with his family on his return to New Zealand.
While he had been battling with this illness for some time, his death has come as a shock.
There has been an immediate outpouring of sadness and tributes from New Zealand Rugby and the broader rugby community reflecting what a giant of the game Lomu was.
In preparation for the 2015 Rugby World Cup, Lomu had made an emotional documentary returning to South Africa 20 years on from the 1995 tournament.
He is survived by his wife Nadene and two sons.
Jonah Lomu
Popular in the Community