The Daily Express has been criticised for describing a former minister's style as "frumpy to fabulous", following an interview to discuss last week's Paris attacks.
The Richard Desmond-owned tabloid was lambasted by Jacqui Smith and her supporters for remarks saying she was "barely recognisable" in a TV appearance, the ex-MP's "long mane of brunette hair with gentle blonde highlights" praised in particular.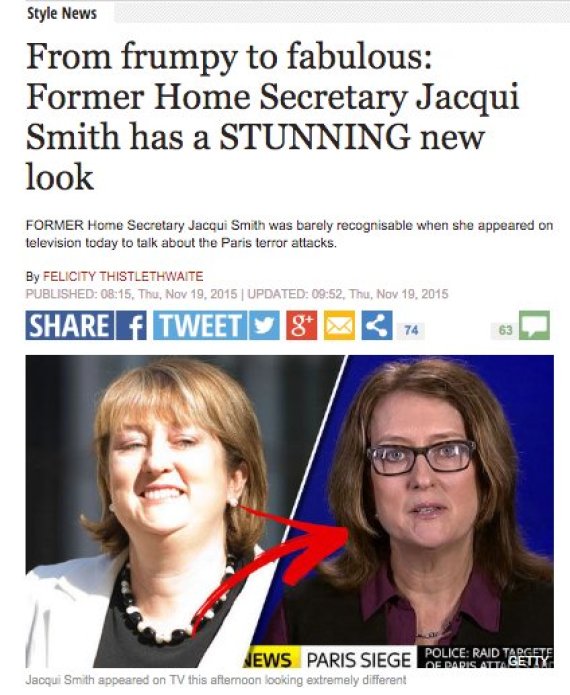 Wednesday's article on Smith's discussion of the Paris Attacks
The original piece said of Smith, who served for eight years in Government, that she was "showing off a new slender frame" and had deliberately dressed in a "purple shirt and black waistcoat" to discuss the rampage in France which killed 129.
Ignoring Smith's comments on the tragedy, the writer instead said that the politician had been "sporting a sleek new hairstyle and snazzy glasses".
Leaving Parliament, they added, clearly "did wonders for formally-frumpy Jacqui, who oozed confidence on Sky News this afternoon".
The article itself prompted Smith herself to pen a tweet, though, calling the Express out for their coverage of her punditry.
Yesterday I appeared on Sky to talk about #ParisAttacks as former Home Sec. This is how Express reported it https://t.co/mYvgO1GvKu

— Jacqui Smith (@Jacqui_Smith1) November 19, 2015
Supporters on Twitter piled in to rebuke editors for commissioning the piece, some remarking that the offending content was "unbelievable", others that it was reminiscent of 1970s-style thinking.
@Jacqui_Smith1 No chance a male former Home Sec would have had the same treatment. But you are fabulous...in mind and body. Good old Express

— CumberlegeEdenLtd (@Cumberlege_Eden) November 19, 2015
@Jacqui_Smith1 and people wonder why women's voices are lacking in public life :(

— Meg Evans (@CaptainMeg) November 19, 2015
@Jacqui_Smith1 @kennygfrederick good grief. Please be assured that the real world is interested in your views as a politician.

— Robert Robson (@rrobson66) November 19, 2015
@Jacqui_Smith1 Oh FFS. Have I woken up in 1977? 😖

— Paul Wilkinson (@paulwilkinson4) November 19, 2015
While one even managed to muster a joke about the Express' coverage.
@Jacqui_Smith1 @camillalong Well, the main thing is you were home in time to get the tea ready.

— molly jones (@MollyJones61) November 19, 2015
The newspaper was contacted for comment but did not respond by the time this story went live.
READ MORE: