Germaine Greer has said her critics can "beat me over the head with a baseball bat" but it will not change her view that those who transition to being female are not women.
The academic and feminist was speaking at Cardiff University, after her appearance there sparked huge outrage and a petition to have it cancelled over this "misogynistic" opinion.
According to the Guardian, she said: "I don't believe a woman is a man without a cock.
"You can beat me over the head with a baseball bat. It still won't make me change my mind."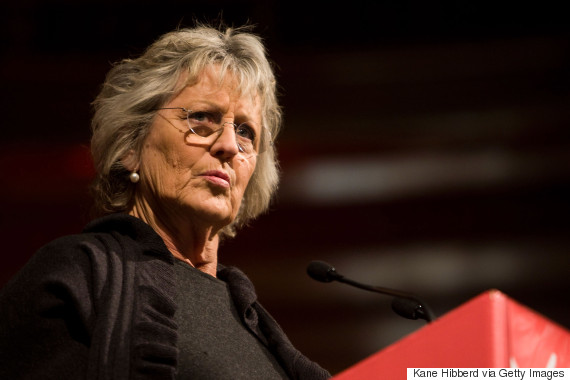 Germaine Greer said she would not change her mind on transgender issue
She added: "Being a woman is a bit tricky. If you didn't find your pants full of blood when you were 13, there's something important about being a woman you don't know."
The academic was the subject of a Change.org petition to ban her from delivering her lecture - 'Women & Power: the Lessons of the 20th Century' - at the university.
The petition's organisers claimed she held "problematic and hateful views towards marginalised and vulnerable groups" which were "dangerous". They added her views were "misogynistic" towards transgender women.
More than 3,000 people signed the petition.
SEE ALSO:
The Female Eunuch author previously sparked controversy when she responded to the outcry, saying: "Just because you lop off your dick and then wear a dress, doesn't make you a fucking woman. I've asked my doctor to give me long ears and liver spots and I'm going to wear a brown coat but that won't turn me into a fucking cocker spaniel."
She continued: "I do understand that some people are born intersex and they deserve support in coming to terms with their gender but it's not the same thing. A man who gets his dick chopped off is actually inflicting an extraordinary act of violence on himself."
Despite a small protest outside the lecture theatre, Wednesday's talk at Cardiff went ahead.
Reaction to Greer's latest comments and appearance was mixed, although many people spoke out in support of her.
@guardian Of course she should attend the lecture,uni's are meant to be a space for open & honest debate to challenge ideas, including hers.

— r_munn (@Binnenpretje1) November 18, 2015
@guardian people should be allowed to express their own opinions, surely the idea of debate is to be able to question beliefs of others

— tealeaves (@Shotgunboy79) November 18, 2015
oh aha germaine greer gave her lecture this evening

good for her

— Conran Tickle (@ConranTickle) November 18, 2015
Good on you GG - right to express an opinion - free speech https://t.co/SFN995Wpn5

— Ellen Blake (@Windynell) November 19, 2015
@guardian Her views have encouraged debate, which is great. Trans equality still has a way to go, but understanding/acceptance is growing

— sofa_surfer (@the_sofa_surfer) November 18, 2015
@guardian excellent, shame on those against her right to speak.

— James (@Jamse83089) November 18, 2015
So Germaine Greer gave her lecture. Did anyone die? Has any transgender person been attacked because of her presence? I thought not.

— Shteve (@SteveBlogs1) November 18, 2015
While others criticised her…
Totally shocked at Greer's views. Shows such poor understanding. https://t.co/UOMvCaEYnk

— Caro Hattersley (@CaroHatt) November 19, 2015
The Guardian really do like throwing our community under the bus. Trigger warning for transphobia and its apologism https://t.co/jc25zBzz2K

— Kae Smith (@kaesmth) November 19, 2015
I disagree with Germaine Greer on many, many things, but the campaign to stop her speaking was deeply sinister https://t.co/K2BKZ86KON

— Owen Duffy (@glaswista) November 18, 2015
So Germaine Greer is still a bigoted TERF who still rails against the reality of gender. https://t.co/WgzyFUDXdS

— Sarah (@Pseudony_Ms) November 18, 2015
The lecture examined issues such as equal pay, as well as the Suffragettes.
WalesOnline reported that Greer also said that she was "supportive for the relaxing of sex-selective abortion".