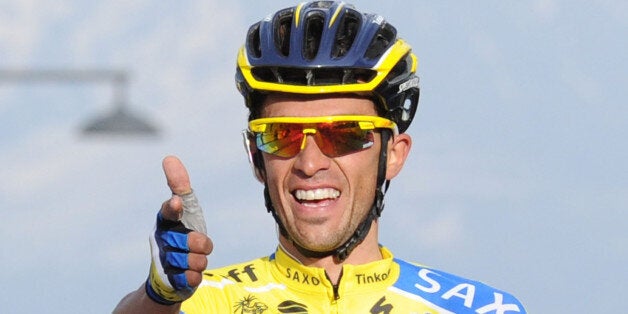 Alberto Contador, one of the world's most successful cyclists, has said he'd drop his famous 'pistol shot' celebration if it upsets fans at next year's Tour de France following the Paris attacks.
The Spanish rider, who is considered to be one of Chris Froome's most feared rivals, often performs the salute to fans when he crosses the finishing line.
Speaking to The Huffington Post UK Contador said: 'The significance of the celebration is not about shooting or violence, it's just for the people to show victory, but if some people could be offended by it then I have no problem not doing it.'
He said he was with his family when he heard about the attacks. 'This is a tragedy that has no contact with sport. Cycling is another thing. We suffered something similar in Spain with the March 11 attacks and some people very close to me suffered from than personally.
Now fully recovered Contador described the life-threatening illness as a point of motivation to get back on his bike.
'For me it was difficult, but also easy getting back on my bike. I was fortunate to have my family, my wife and my friends with me, but I was psychologically on the limit and it was very difficult physically. I always thought of the other things that might have happened to me that didn't happen.'
Related