The story of a couple who are concerned about their financial situation despite earning £190,000-a-year between them has been given short shrift.
But the Brownson's quandary - whether they should sell their buy-to-let flat worth £315,000 in order to fund sending their two daughters to £4,000-a-term private schools - attracted quite the backlash.
One person went so far as to create a crowdfunding campaign in "solidarity" with the young family, including a photoshopped image of them.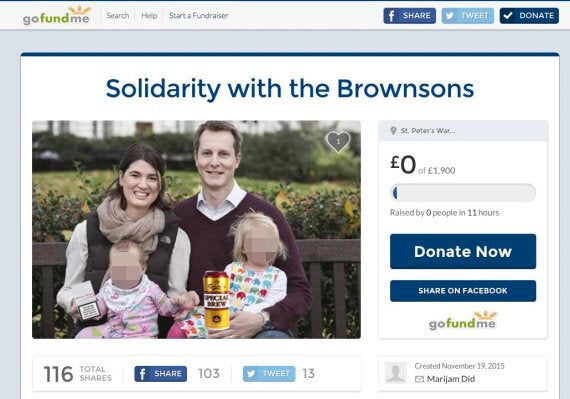 The crowdfunding site set up following the story
The creator of the Go Fund Me page, Marijam Did, sarcastically wrote: "With tears in my eyes I scrolled down through Adam's and Megan's heart-wrenching story that appeared in the Daily Telegraph today.
"The feeling is all too familiar to me - just like Brownsons struggle to send their beautiful daughters to a private school AND keep the real estate they worked so hard for, so do I often find myself only capable of buying another bottle of 5-year malt scotch instead of bread and milk for which my change just won't cover.
"I am thoroughly worried about becoming "financially broken" as the sheer cost of booze and tobacco in London means I am stretched to the brink. I have not been able to buy food for months now, but if this is going to continue, means that my beloved bottle of ale is going to stay a dream too.
"I am currently heavily reliant upon my salary, meaning a redundancy or illness could leave me sober or a bit peckish.
"My dilemma is how to fund the cost of the Blue Drum without sacrificing my lifestyle."
Unsurprisingly, at the time of writing, no one had yet donated anything to the fundraiser.
Even the Telegraph's own readers offered little sympathy…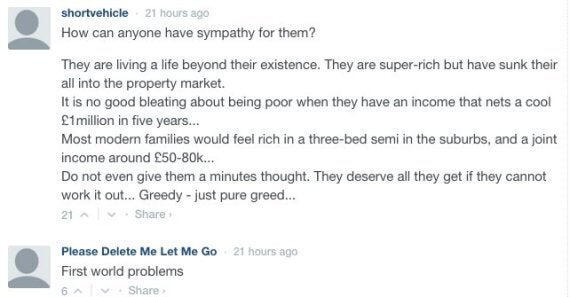 The couple were advised to cut back on their monthly spending, repay their credit card debt and establish a pot of savings by the Telegraph's financial advisers.