Undercover police officers were "abusive, deceitful, manipulative and wrong" when they had long-term relationships with women they were spying on, the Metropolitan Police has said.
After a four-year legal fight, the Met settled on Friday with seven activists who had relationships with men they thought there were fellow members of their campaigning groups but were actually undercover officers spying on them, using assumed identities.
The longest relationship lasted nine years and some of them bore children. One of the relationships lasted five years, during which time the undercover officer was actually married to someone else with children.
The seven women have received an apology and a confidential settlement that includes financial compensation. Another woman's case has yet to be settled.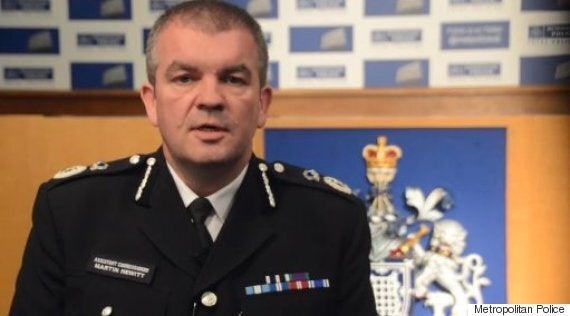 Martin Hewitt delivering the apology
Deputy Assistant Commissioner Martin Hewitt read a lengthy statement, saying: "Thanks in large part to the courage and tenacity of these women in bringing these matters to light it has become apparent that some officers, acting undercover whilst seeking to infiltrate protest groups, entered into long-term intimate sexual relationships with women which were abusive, deceitful, manipulative and wrong...
"These relationships were a violation of the women's human rights, an abuse of police power and caused significant trauma."
In a joint statement, the eight women said: "We have worked together on this painful and deeply personal legal case in order to expose the serious and systemic abuse of power by undercover police officers and their managers... No amount of 'sorry', or financial compensation, can make up for what we and others have endured."
They also condemned Hewitt's statement for not acknowledging the children born into the relationships.
"The police still refuse to publicly acknowledge the harm caused to the children born of and into these relationships or even bring themselves to refer to them in their apology today," they added.
Many of the women did not learn the real identities of the men until 2010 and 2011, when the cases were exposed by The Guardian.
Their statement continued: "Five years ago it would have seemed inconceivable to the public that state employees would go to such lengths, but the scale of the abuse uncovered demonstrates that this was accepted practice for many years.
"Other cases arising from intimate relationships are still ongoing and we are aware of more relationships yet to be publicly exposed.
"The level of deception perpetrated by state agents seeking to undermine movements for social change is akin to that of the Stasi in East Germany."
Hewitt said the officers' actions were "totally unacceptable" and some of them "may have preyed on the women's good nature and had manipulated their emotions to a gratuitous extent".
He said of the women: "They were deceived pure and simple. I want to make it clear that the Metropolitan Police does not suggest that any of these women could be in any way criticised for the way in which these relationships developed...
"The women spoke of the way in which their privacy had been violated by these relationships. I entirely agree that it was a gross violation and also accept that it may well have reflected attitudes towards women that should have no part in the culture of the Metropolitan Police."
The women held a press conference on Friday morning, including some of whom who were forbidden from being photographed or filmed by court order.
One of them, identified as "Rosa", described how she she learned that her partner of nine years and father to her children, was "fabricated by the state".
She described searching for him for 18 months after he suddenly disappeared, only for to reappear claiming he was on the run.
"I was pregnant within two weeks of his reappearance and bore children by the actor, a random police officer, who had played my partner," she said.
"A stranger planted in my political movement, one of many, trained to undermine both everything I stood for and my traumatised self. He used his professional skills of deception and manipulation to try to control my feelings and actions.
"He had me isolated from all my friends, comrades and associates, and I lived in an abusive relationship with him. I eventually escaped to a women's refuge with my children."
Another woman, "Lisa" described how her partner of six years, an undercover officer, attended her father's funeral.
Helen Steel, who met her partner at London Greenpeace and had a two-year relationship with him, described how he appeared to suffer a breakdown and then disappeared, a pattern of behaviour by the undercover officers.
She said: "I was left distraught and I spent years searching for him. In the course of that search I found he had been using the identity of a child who had died.
"The discovery that someone I thought I knew so well didn't actually exist has had a lasting impact on my life. I spent 19 years searching for the truth, while the police took active steps to conceal it from me. It was only through Rosa that I found out the truth."
Kate Wilson, whose case has not been settled, told the press conference she found a GPS tracking device on her car earlier this year.
She lived for two years with a man and learned in 2010 he was in fact not Mark Stone but Mark Kennedy, an undercover officer.
She said: "The personal implications of that discovery for my life's projects, and my sense of who I am and what I can believe, have been devastating, and I remain haunted by unanswered questions."
In their joint statement, the women said: "The Metropolitan Police made substantial financial settlements to seven of us, meaning we are unable to take this matter forward to open court.
"However, one of us is able to continue her case and the rest of us will support her and continue the fight to obtain disclosure, and to have the legal framework governing undercover policing examined by the courts."
There is a criminal investigation into the officers' behaviour, Operation Herne, and a judge-led public inquiry that began in July.
The officers were from the Special Demonstration Squad, part of Special Branch, which disbanded in 2008 and the National Public Order Intelligence Unit that disbanded in 2011.
Hewitt said he was concerned the relationships did not stop after the Regulatory of Investigatory Powers Act was passed in 2000, which required more stringent supervision of the officers.
He added: "[We] recognise that this should never happen again and the necessary steps must be taken to ensure that it does not.
"Undercover policing is a lawful and important tactic but it must never be abused."
Popular in the Community