An NHS worker has used a moving story about helping to diagnose a taxi driver's cancerous mole to launch a scathing attack on Jeremy Hunt.
The junior doctor, whose Facebook name is Imran, was travelling home when he told the man he should get a mole on his cheek checked out, holding up the story as an example of doctors going above and beyond what is expected of them.
He then accuses the "cruel Tory front bench" of trying to dismantle the NHS in his row with junior doctors over contracts and outlines what motivates people like himself.
He said: "Doctors aren't doctors so they can get that 10% pay rise, or enjoy taxpayer funded trips and second homes in Westminster.
"A lot of us spend 36 hours on the trot in a barely furnished hospital on call room, sleeping in our clothes... waiting.
"Yeh, we do that because we care Jeremy Hunt. We don't tell that taxi driver to get that mole checked out on the back end of a 90 hour week to cement a political promotion.
"We do it because we care. And I think the public see that, so give up on your stupid media campaigns, and sit down with doctors."
Hunt is locked in a battle with junior doctors over changes to their contracts. Last week they voted to hold three strikes on the 1, 8 and 16 December, something the health secretary says could lead to patient deaths.
Here are six things you need to know about the changes, and the continuing furore...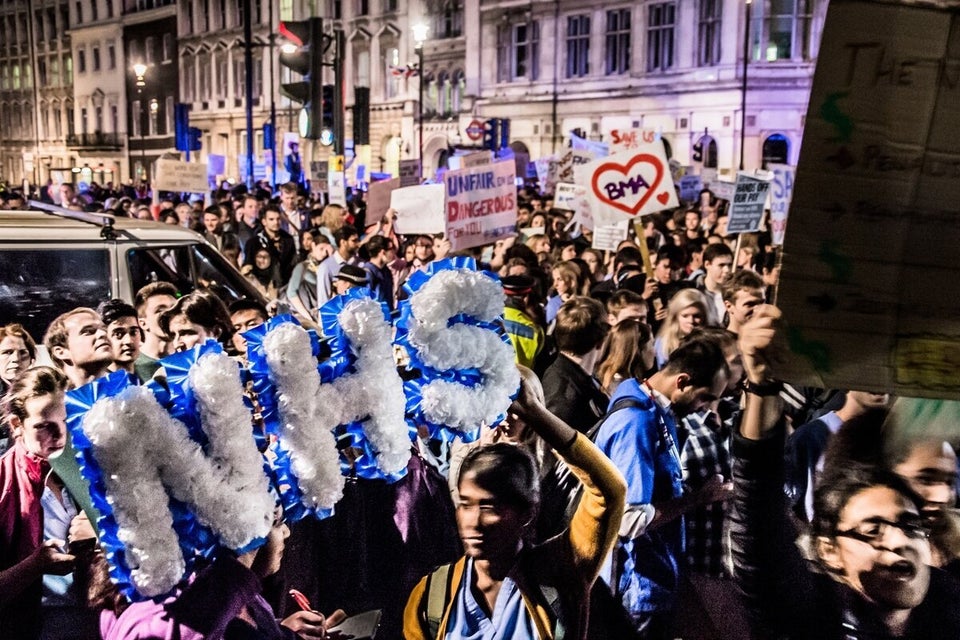 6 Things To Know About Junior Doctor Contract Changes
The full post if you can't see it above reads...
Awww. A few months ago I was dropped home by a taxi driver. Before I got off, I told him to get what he thought was a mole on his cheek checked out by a dermatologist. Turns out it was a BCC (basal cell carcinoma), and months down the line, he remembered where I lived and dropped some flowers off. With a message saying that he was glad that I "cared enough" to tell him.

Fitting this, on a day that junior doctors across the country overwhelmingly voted for a strike, with a heavy heart, hoping to make a stand against this cruel Tory front bench, who seem to think the last election granted them a mandate to destroy the very fabric of society.

Doctors aren't doctors so they can get that 10% pay rise, or enjoy taxpayer funded trips and second homes in Westminster.

A lot of us spend 36 hours on the trot in a barely furnished hospital oncall room, sleeping in our clothes... waiting.

When some us operate on a patient, knowing full well the outcome is not gonna be great, or things are going wrong... the last place you want to be is there, weighed down by a hot sticky operating gown. You want to cry, scream, panic, but of course you can't. Emotions barely in check because of that overwhelming fatigue. But there are people depending on you, so of course you can't.

And then that 70 mile drive back home, when you keep nodding off at every traffic light, and the kind policeman sees that you're in trouble and escorts you to the service station with strict instructions to grab 20 mins sleep in the car, "and here's a coffee, Doc".

Yeh, we do that because we care Jeremy Hunt. We don't tell that taxi driver to get that mole checked out on the back end of a 90 hour week to cement a political promotion. We do it because we care. And I think the public see that, so give up on your stupid media campaigns, and sit down with doctors.

Junior doctors are a bedrock of the NHS. They are the future of the NHS. And to dismantle the NHS you'll need to dismantle us first.

If something happens during these strikes, there will be blood on your hands. I'm sure that taxi driver knows it. And I'm sure, deep down, you know it.

This is what we are fighting for, explained in 3 mins: https://www.youtube.com/watch?v=c9dpd6rAPz8