A Russian officer drank half a litre of rum before crashing a 423ft cargo ship in Scotland, an investigation has found.
The 36-year-old consumed the alcohol in his cabin before working his shift as the sole officer on watch at midnight, but had "become inattentive due to the effects of alcohol consumption".
The inebriated sailor caused the ship to run aground at full speed into the rocky foreshore, where it remained for two days during bad weather.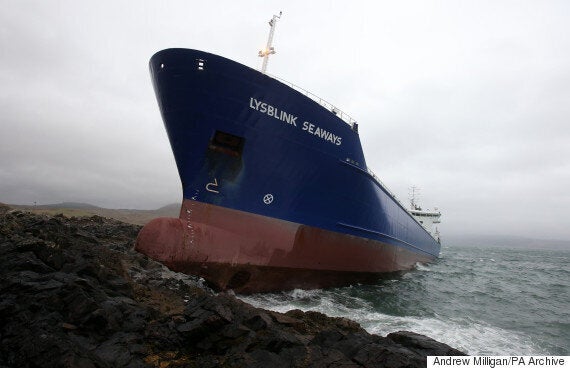 The ship crashed into the west coast of Scotland
The Lysblink Seaways vessel was travelling from Belfast to Skogn in Norway with a cargo of paper when it became stuck off the west coast of Scotland near Kilchoan in the Ardnamurchan peninsula on 18 February this year.
It resulted in damage, including to its hull and some fuel tanks, with 25 tonnes of marine gas oil entering the water, a report from the Marine Accident Investigation Branch (MAIB) revealed.
After the Russian officer took charge of the vessel at midnight it began to deviate significantly from its planned route at 02:10am, and eventually hit the shore.
The report concluded that "the vessel grounded when the officer on watch lost situational awareness due to his consumption of alcohol," but did not reveal whether he had fallen asleep before the collision at 02:30am.
"Everyone [in the company] knows the consequences of having alcohol in the blood or being in possession of alcohol on board... the officer in charge was fired.
"We're happy that no persons were injured during this quite dangerous situation."
Popular in the Community