Britain First appear to have suggested that deliberately drowning refugees is a valid solution to Europe's migrant crisis.
Worryingly, many of their supporters appear to agree.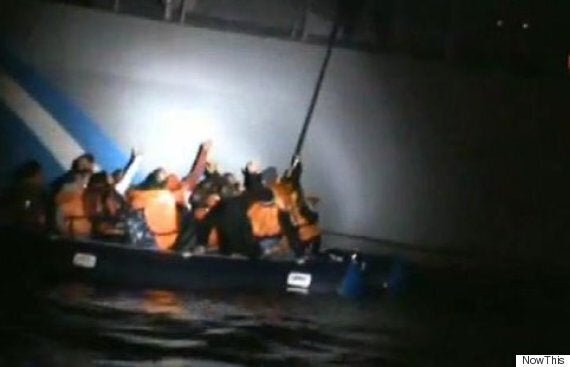 A still from the original video
The post was headed: "THAT'S ONE WAY TO DEAL WITH AN INVASION...."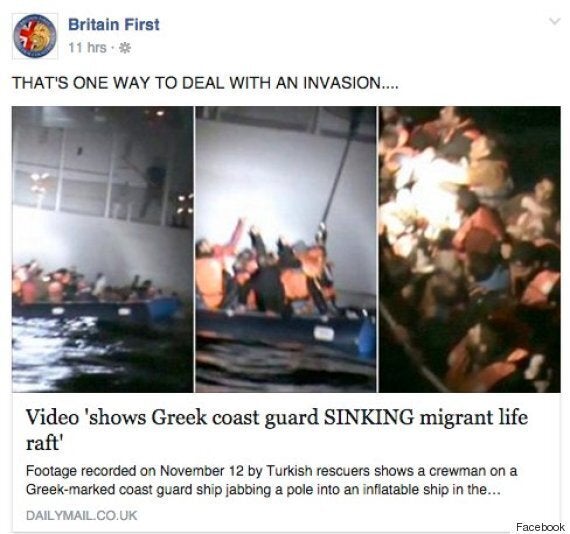 While some comments underneath the article on Britain First's Facebook page conveyed horror at the incident, most of the top-rated actually celebrated what they thought was the intentional drowning of refugees.
"Go on greece , keep up the good work"
"Three cheers for the greek coastguard"
"I think we need to introduce sharks to the area that would put them off."
"Spot on Greece keep up the good work"
"Not enough on the raft"
In a statement, the Hellenic Coast Guard said: "The Hellenic Coastguard categorically denies the articles in the foreign press, as well as the doctored audiovisual material on a foreign website, according to which a Hellenic Coastguard vessel allegedly tried to sink a boat carrying refugees.
"Moreover, we obviously deny any effort by members of the crew to draw near to their large vessel a small inflatable craft by using a nautical hook (that is, a tool used in accordance with international shipping technique and practices for this purpose) while a nearby Turkish coastguard vessel assisted the rescue operation by lighting and facilitating all of the actions with a spotlight."
Their were voices of reason on amongst the comments on Britain First's Facebook page.
"no its not .. cruelty barbaric way..children woman in that boat for god sake 😟😟😟"
"Shame on them......and I'm retired military....Disgusted"
"Totally Disgraceful act and barbaric. No better than ISIS."
Thousands of refugees continue to arrive daily on the small Greek islands clustered close to the Turkish coast, most of whom hope to continue their journey northwards through Europe.
Some 4,400 migrants arrived on the island of Lesbos as an average every day in October, data from the UN High Commissioner on Refugees showed.
Britain First were unavailable for comment.
Related