Backlash to an article in The Sun claiming 1 in 5 Muslims sympathised with Islamic State jihadis culminated in an inspired hashtag on Monday evening, mocking the dubious assertion.
#1in5Muslims use 'Inshallah' to politely avoid committing to any plan. (And it works.) "Wanna get coffee sometime?" "Sure, yeah, inshallah."

— Mehreen Kasana (@mehreenkasana) November 23, 2015
#1in5Muslims has had his shoes stolen at the Mosque

— Bissmäh Mehmüd (@bissmahmehmud) November 24, 2015
The tabloid's poll has attracted a record number of complaints and its interpretation of the data has been criticised for being vague and not providing context.
But within the hashtag a number of themes can be teased out that show the backlash was not just about humour but a chance for Muslims to defend themselves and their faith.
And in the end, hate conquers right wing media.

Muslims should never ever be demonised because of ISIS.

#1in5Muslims pic.twitter.com/2vRkgNRTCb

— James Melville (@JamesMelville) November 23, 2015
#1in5Muslims are victims of baseless Islamophobic rants of narcissistic racists who show inherent bigotry pic.twitter.com/HaCd6t2788

— Farhan Khan Virk (@FarhanKVirk) November 24, 2015
@ianmartinhull @khawaja_tayyab #1in5Muslims have to hear this BS all the time

— Ali Amla (@mohammedaliamla) November 24, 2015
#1in5Muslims are scared for their lives every day, the other 4 are exhausted from being forced by bigots to defend their religion

— Heraa Hashmi (@HeraaHashmi) November 24, 2015
The sentiment is backed up by a recent study by the Islamic Human Rights Commission (IHRC) which claimed discrimination against Muslims was creating an "environment of hate" in Britain.
The report showed a rise in the feeling that Muslims are being discriminated against both in day-to-day Islamophobic acts and government policies.
Between 2010 and 2014, the number of people who reported witnessing Islamophobia directed at someone else leapt from 50% to 82%.
In the same period, the number of people stating they had witnessed negative stereotypes about Islam and Muslims jumped from 69% to 93%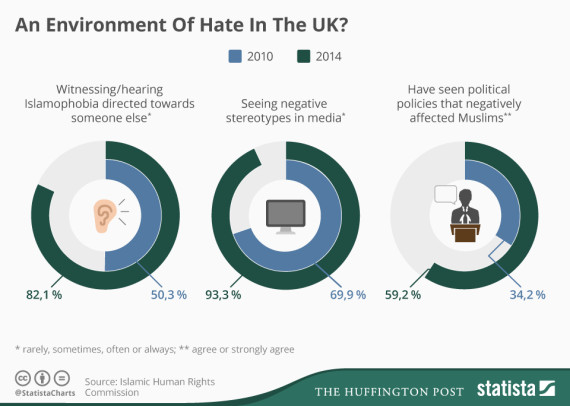 Infographic supplied by Statista
The number of Muslims saying government policies were discriminating against them rose from 34% to 59%.
Others using the hashtag chose to highlight the shocking levels of ignorance between Muslims and those of other faiths.
#1in5Muslims is actually a Sikh some ignorant bigot added to the poll because turban.

— Hend Amry (@LibyaLiberty) November 23, 2015
This is particularly timely as just last week a Sikh man was wrongly identified as an attacker in the Paris terror attacks after his image was photoshopped.
Portraying @Veeren_Jubbal as a terrorist puts his life at risk, ruins his reputation. This is online terrorism. pic.twitter.com/U5bJYCnIsC

— Amy (@AmyStephen) November 15, 2015
Some used it as a chance to highlight more day-to-day difficulties.
#1in5muslims get through airport security without getting randomly selected for a search.

— war on christmas (@muslamichoe) November 23, 2015
A petition has been started demanding the editor ofThe Sun apologise for Monday's front page.
Yesterday the sun incited racial and religious hatred. They should be reprimanded. #1in5Muslims https://t.co/JcADP1xT5K

— Elizabeth Appiah (@E_AppiahKusi) November 24, 2015
Until then, people seem content to use a hefty dose of humour to make their point - here are some of the best...
#1in5Muslims have forcefully converted their cat to islam pic.twitter.com/RCvwaqKuw6

— Anas (@Saka1410) November 23, 2015
#1in5Muslims thought this was white and gold. #throwback pic.twitter.com/OvEtfFzLuG

— Toseef Ahmad (@elseefo) November 23, 2015
#1in5Muslims think Netflix and chill means Netflix and chill.

— Areeb Ullah (@are_eb) November 23, 2015
#1in5Muslims sing Christmas carols under their breath because they're just too catchy

— Ahmed Turaif (@AhmedTuraif) November 23, 2015