When Tom Chapman's close friend died from suicide earlier this year, he was left in shock.
The barber had caught up with his friend Alex Goddard earlier that week and the 27-year-old seemed fine. Days later, Goddard was gone.
Chapman, who is from Torquay, has since launched The Lions Barber Collective and BarberTalk to encourage men to open up about their struggles with mental health.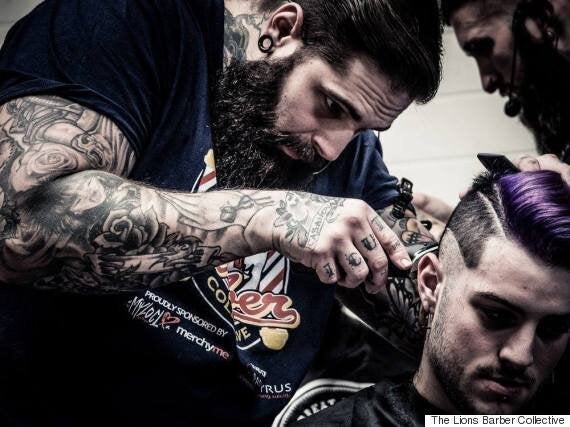 It comprises 30 international barbers who are passionate about male suicide prevention and raising awareness surrounding mental health.
They hope to encourage men to talk about their problems more by offering a counselling service through barbers, which they've dubbed BarberTalk.
"We already have the trust of our clients and we are in a unique position that we must morally take advantage of - so we can help our clients and provide a safe place to talk," Tom Chapman tells HuffPost UK Lifestyle.
"Over time we can smash the taboo and make it okay for men to share their emotions with one another."
The BarberTalk training programme has been set up by Chapman and his business partner Pat Barry in conjunction with Papyrus and Pieta House, whose united goal is to prevent self-harm and suicide. It offers bespoke training for barbers so they can recognise, talk, listen and advise clients with depression or other mental health issues.
Chapman hopes to take the "huge level of trust already instated in a barber" and do something productive with it, so clients are able to get help if they are in need.
"Clients already offload their thoughts and feelings without knowing it," he says. "As barbers we build up a relationship with clients, often knowing the whole family.
"They allow us into their personal space, we are allowed to touch their head and hair, there aren't many people we allow that close to us. There is also that confidentiality between a barber and their client, we are friends yet often not in their social circles so people feel it is safe to share."
The BarberTalk programme is set to roll out nationwide next year and Chapman hopes to open designated salons where men feel comfortable getting help.
"We know that barbers do not have the time or official training to become councillors," says Chapman. "But they will be able to be that first step and point people in the right direction."
Another person who has experienced the devastation of suicide first-hand is Ken Hermes, the collective's official blogger.
"What I find interesting about the Barber Collective is that they're trying to break the taboo. And it is a taboo," explains Hermes.
After his dad's death, he felt like he couldn't talk about his grief with friends at school because they'd get sick of hearing about it or wouldn't want to hang around with him anymore.
"And if people feel that way when they lose someone, then there's clearly a big taboo when you're going through it yourself," he adds. "I don't feel like my dad had anyone to speak to in that respect."
So far, the response to the collective has been nothing short of "phenomenal".
"It has grown organically to heights that I never thought possible in such a short period of time," says Chapman. "We have realised very quickly that this is something that is needed and can make a huge difference."
Over the next year they hope to launch a Look Book whose funds will be pumped right back into the initiative, as well as a BarberTalk truck. The modified pick-up truck will act as a mobile pop-up barbershop which the crew will take to events and festivals to help spread the word.
They also hope to hold sessions at universities, colleges and schools to help raise awareness and educate young people about depression and mental health.
"We want students to know that it is great to open up to one another and share their problems and emotions," says Chapman.
"I am also looking to create 'dens' - a safe house with safe-guarders and on site councillors - where people suffering can go and stay, and get help for as long as they need.
"Eventually we would love to have these in every city so people have a place to go."
Related