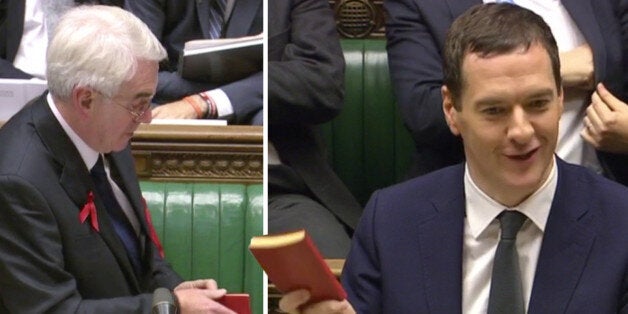 A woman who spent part of her childhood in a Chinese labour camp has told John McDonnell it was "chilling" to hear him quote from Mao Zedong's Little Red Book in the Commons yesterday.
Labour's shadow chancellor faced an immediate backlash on Wednesday when he waved a copy of the former Chinese communist leader's book in an attempt to highlight George Osborne's decision to sell British assets to Beijing.
However Diane Wei Liang, who was born in China in the 1960s, told BBC Radio 4's Today programme this morning the joke was "not very funny".
McDonnell, who ran into Wei Liang outside the BBC studio, insisted she had "understood" the joke but apologised if any offence had been caused.
Asked about the book, Wei Liange recalled: "It was used in massive scale. I grew up with it. And when I went to spend three years with my parents in a labour camp, was three years old and I was given one.
"It was used for my parents. For example they needed to read this every day. They were professors. They were made to work as hard labourers in a labour camp and then quote from Mao's book and criticise others and critise themselves in the term of being reeducated.
McDonnell's deputy was not consulted on the idea of quoting Mao
Wei Liang said of McDonnell's decision to quote from the book in parliament. "In a way it was chilling for me because it reminded me the memories I had in childhood, when at public meetings, public denunciation meetings, before sentences are passed on to someone who is condemned to either death or a jail sentence, they was always some quoting from Mao's little red book."
She added: "Perhaps because of my background, I grew up in China, to me it was not very funny. And I rather think it is not funny for the millions of people who died during Mao's regime, or for the people who lived through those times."
Speaking to Today shortly after Wei Liang, McDonnell insisted she had been ok with his parliamentary theatrics. "I just had a chat with that lady and she said actually I understood the joke," he told presenter Nick Robinson.
And he attacked the criticism of his decision to quote Mao. "To be frank there is an element of hypocrisy here. Here I am going in a flamboyant, jocular way, to raise an issue that wouldn't even been raised before," he said. "i don't support Mao of course not."
"A shadow chancellor's speech usually sinks beneath the waves. I've got an issue on the agenda."
He added: "I am criticised, this government is selling off to a Maoist regime British assets."
"I've spoken to the lady herself and she said I understood," he added. "Of course if that have caused offense I apologise."