Jeremy Corbyn's decision to not support David Cameron's plans to bomb Syria has seemingly fired-up his grassroots supporters, but even they are predicting it could cause a war within his own party.
Corbyn triggered what looks set to become a huge power struggle at the top of the Labour Party and the prospect of resignations on Thursday after writing a letter to his MPs and peers saying he "cannot support" the proposal for bombing to get rid of ISIL.
His position was at odds with many within his Shadow Cabinet. Just hours earlier his Shadow Foreign Secretary Hilary Benn said there was a "compelling case" to join the air raids.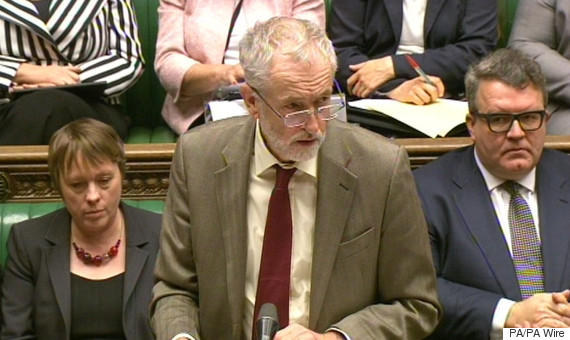 The public were divided over Jeremy Corbyn's decision not to support airstrikes in Syria
The public's reaction to his decision has been mixed. Some respected Corbyn for sticking to his guns, while others lambasted his unwillingness to act and the firefight that he has sparked within his own ranks.
It's so refreshing to see a politician not cave into unfounded external pressures and stand up for his beliefs. You go Jeremy #Corbyn!

— Ewan Grunwald (@EwanGrunwald) November 26, 2015
@jeremycorbyn Please ask those in your cabinet who oppose Peace to resign. We are with you

— wilson sadler (@wilsonsadler) November 26, 2015
agree @jeremycorbyn air strikes will not make Britain safer we need 2 support those on ground already fighting IS https://t.co/AfZkCdfSoZ

— Mary Wollstonecraft (@molesteeth) November 26, 2015
Need to leave off @hilarybennmp . @jeremycorbyn was always a man of principle who stood by them, he would expect no less of others

— The_Silverback (@Silverback_esq) November 26, 2015
@GrainPirateDan I am pleased he sticks to his guns, though it is a car crash in slow motion #principles#JeremyCorbyn

— norfolk mummy (@norfolkmummy3) November 26, 2015
Others predicted Corbyn's decision will be the "spark that sets Labour in open rebellion", and possibly end his leadership.
The #JeremyCorbyn doomsday clock is reading one minute to midnight - one more gaffe and it's game over... #corbynmustgo#LabourChaos

— Mark Hemingway (@MarkHemi82) November 26, 2015
Just got off a three hour flight, has Jeremy Corbyn resigned from his own party yet?

— Kate McCann (@KateEMcCann) November 26, 2015
Too early for Cameron's tastes: Syria will be the spark that sets Labour in open rebellion by @DPJHodgeshttps://t.co/MjlxILHWat#ukpoli

— Dean Rivando (@drivandalism) November 26, 2015
Is @jeremycorbyn trying to sideline shad cab, or does he think #Labour leader+cab can credibly hold separate views! https://t.co/ltyi3Ws7KM

— James Bulman (@jamesbulman1) November 26, 2015
Is just @jeremycorbyn failing to transition from protester to potl Prime Minister, or is @UKLabour falling apart? https://t.co/TF3lJIAl2e

— Jeremy Rodell (@jeremyr1) November 26, 2015
Our top story tonight: Jeremy Corbyn "declares war on Shadow Cabinet" over Syria https://t.co/Ct6Kgx7p2Upic.twitter.com/6bnbnPveeX

— Kevin Schofield (@PolhomeEditor) November 26, 2015
While some suggested no amount of provocation would force Corbyn's hand. They also questioned his motives.. and his leadership.
I wonder how many time you'd have to punch Jeremy Corbyn in the face before he finally stood up for himself and punched back #gutless

— Malcolm Briggs (@Agent_Aqua) November 26, 2015
Jeremy Corbyn massive wimp

— jon (@jonmac36) November 26, 2015
Thank goodness Jeremy Corbyn wasn't opposition leader in the 40s, he would have let Hitler sweep across the UK. https://t.co/wcNVsIt6f9

— Beau (@beau_air) November 26, 2015
@jeremycorbyn you sir are a prick! Your stance against air strikes is based upon undermining Cameron. I voted labour but you are a joke!

— James Higham (@RealHigham17) November 26, 2015
I would even trust #JeremyCorbyn with running a bath let alone the Labour Party, does he even have 1 brain cell???

— Tom (@tomyhopkins) November 26, 2015
Others were more forthright in their analysis.
@DavidCameron_MP Dave get these terrorist sorted mate and tell @jeremycorbyn to fuck off! Oh and @GeorgeOsborne stop bleeding the poor dry

— James Higham (@RealHigham17) November 26, 2015
Someone get rid of Jeremy Corbyn

— sophie (@imsophienelder) November 26, 2015
SEE ALSO