Director Spike Lee has urged young women to stage a "sex strike" to combat sexual harassment and date rape on university campuses.
The two-time Oscar nominee believes there is an "abundance" of attacks and thinks women should be proactive in trying to stop them.
"I think a sex strike could really work on college campuses where there's an abundance of sexual harassment or date rapes," Lee told Stephen Colbert, while being interviewed about his new film Chi-Raq, on The Late Show.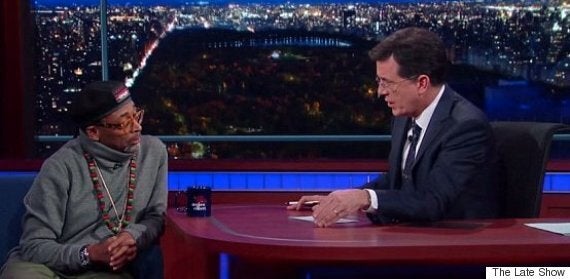 Spike Lee on The Late Show where he advocated women go on a "sex strike" to combat date rape
"Second semester it's going to happen. Once people coming back from Christmas and some stuff jumps off, there's going to be sex strikes in universities and college campuses across this country.'
A recent survey by the Association of American Universities found that more than 10% of respondents had been assaulted by men wanting sex. Nearly a quarter said they had been the victim of an unwanted sexual advance.
Lee's latest movie, Chi-Raq - starring Samuel L Jackson, Wesley Snipes and Nick Cannon - is based on Lysistrata, a satire by the ancient Greek playwright Aristophanes.
It follows four women who try and fight gun crime by refusing sex. It has been reported that the movie has inspired some women in crime-ridden neighborhoods to do the same.
Chi-Raq is a slang term used by rappers to compare the violence in Chicago's Englewood neighbourhood to that in the Iraq war zone.
Lee also praised the release of dashcam footage showing white police officer Jason Van Dyke shooting 17-year-old Laquan McDonald dead. Van Dyke has since been charged with murder while Chicago has erupted in protests.
The 58-year-old writer and director said: "They're [police] worried because they think black folks in Chicago are going to run amok
"I think there's a way to have peaceful demonstrations without tearing stuff up. I'm glad the tape was released. This is democracy. I sometimes think we pick and choose what America should see."