The Times has embarrassed its News UK stablemate by issuing a correction for a "misleading" article it published about whether British Muslims had sympathy for fighters in Syria.
Editors at the paper admitted that the offending poll they reported on, which was used to back a front page story in The Sun on the previous day: "Did not distinguish between those who go to fight for IS and those who join other factions in Syria, and it did not ask about attitudes towards Isis itself."
"Our headline," they conceded, "...was misleading in failing to reflect this."
Press watchdog Ipso confirmed to HuffPost UK it had received several complaints regarding the Times piece, lodged under section one of the press regulator's code: Accuracy.
The original Sun story meanwhile, has prompted a record 2,600 complaints.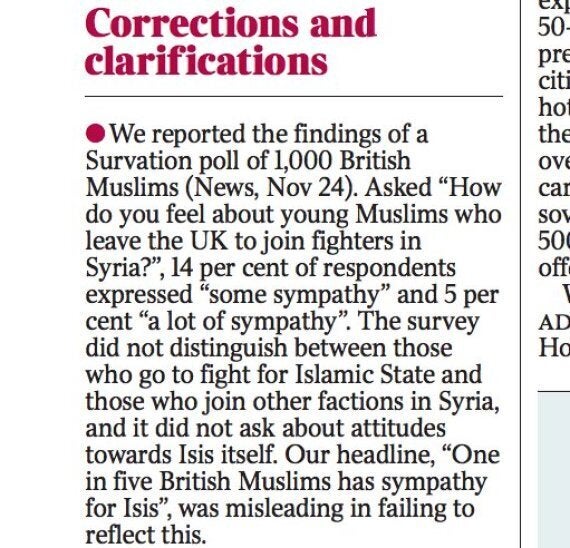 Thursday's corrections and clarifications column
The acknowledgement that Tuesday's Times headline was misleading is a blow to Sun executives, who came under fire in the aftermath of their original story's publication amid claims of falsely representing research results.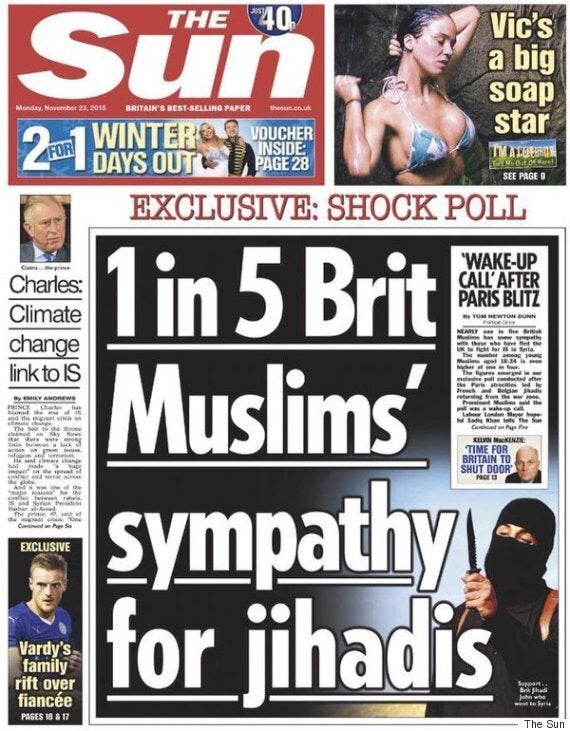 Monday's Sun's front page
"There is a distinction between the work we do and how clients chose to present this work," their chief executive, Damian Lyons Lowe, and director of research, Patrick Brione, added.
"Survation do not support or endorse the way in which this poll's findings have been interpreted."
It also emerged on Thursday that a group of 10 MPs had penned a stinging letter to Sun editor Tony Gallagher over his sanctioning of the story and its accompanying front page splash.
Shabana Mahmood, who represents Birmingham Ladywood, led the charge of Labour MPs demanding a meeting with the tabloid boss, criticising Monday's article as "flawed and misleading".
They called on Gallagher to face tough questioning over his decision to conflate sympathies with fighters in Syria with Isis extremists.
Mahmood and her co-signatories added they were "deeply worried" about the effects of his editorial decision, and feared such stories could provoke an increase in hate crimes against Muslims.
Related