Black Friday comes but once a year... and it's due to cause some serious mayhem today.
The event is rapidly becoming the biggest online shopping day of the year for many countries - and online shopping is definitely what we'd recommend (seriously, a half-price blender isn't worth dealing with THIS).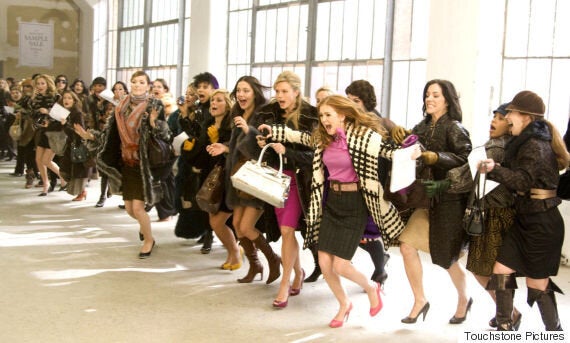 But for all you brave sale-seekers, we've compiled a list of deals both online and in-store, along with some top tips for making the most of all the offers.
This year, Amazon.co.uk's Black Friday Deals Week starts at 00:00 on Monday 23rd November and runs until 23:59 on Sunday 29th November.
Shoppers will be offered 'Lightning Deals' - products available at a discount, in limited quantities, for a short period of time - as well as 'Deals of the Day' – selected products on offer for one day, from 00:01 to 23:59.
Savings of up to 25 per cent will be available on flights to top destinations like New York, Las Vegas and Rome and one of the airline's hot new routes for 2016; San Jose in Costa Rica.
The sale is now live and offers will be available all weekend until midnight on 'Cyber Monday', November 30.
MAC are celebrating the busiest shopping day of the year by launching a limited edition lip pencil in a luscious blackberry hue, aptly titled Berry Black Friday and on sale for £17.50.
From midnight on Thursday 26 to – midnight on Monday 30 November, enjoy free delivery and savings of up to 30% during the Black Friday Weekend event at skincare brand Liz Earle.
Though they're eschewing the term 'Black Friday', the chic clothing store will be offering a 'Weekend Special', with 20% off dresses from Friday to Sunday.
The online premium beauty retailer will be offering up to 50% off its luxury items, including perfume, cosmetics and skincare.
25% off sitewide (including sunglasses in their Black Friday sale section - where some pieces including Marc by Marc Jacobs, Gucci Carrera and more are up to 55% off). Simply enter the code 25GIFT at checkout.
The UK's largest specialised perfume retailer are offering discounts of up to 82% on celebrity fragrances and over 40% off mega sized gift sets.
Illy is selling all of its coffee machines half price on its official UK website espressocrazy.com for Black Friday, meaning you can pick up a top of the range machine from as little as £65.
One of the most extravagant apps in London, the champagne delivery service by Gett and Veuve Clicquot is being cut to just £39 from an original £50 in line with Black Friday. That's a bottle of chilled Veuve Clicquot delivered to your door with two champagne flutes within ten minutes via scooter.
Additionally, Gett are offering a Black Cab Friday deal whereby, when 3 rides or more are taken with Gett over the Cyber Weekend, Fri 27-29, they'll be gifting users with £5 free cab credits.
The lingerie store are offering a range of deals such as £1 onesies, £5 underwear sets, and £5 Calvin Klein pyjama pants.
Ann Summers are celebrating Black Friday by giving away 700 of their iconic Rampant Rabbits (worth £37), in a limited edition Black Friday inspired design.
In order to claim a free rabbit, download a Golden Ticket from the Ann Summers Twitter and Facebook pages from Wednesday 25 November, print it off and take into one of the 14 participating stores on Black Friday to claim your Rampant Rabbit for free.
Running from 23-30 November, over 10,000 items on beyondretro.com are up to 75% off, including an incredible range of unique vintage pieces. Also running in store, this is the biggest Black Friday sale Beyond Retro has ever had.
Get that cheapo NutriBullet without any risk of broken limbs in your local Argos. The website are offering discounts of up to 70%.
Real Techniques are doing a Superdrug exclusive Ultimate Gift Set for Black Friday, worth £100 but on sale for £50.
From Friday 27 to Monday 30 November, Halfords will have deals including up to 50% off on children's bikes as well as great bargains on technology and motoring must-haves - both in-store and online.
Can't wait to get your shop on? Get prepared with these top tips for getting the best Black Friday deals, by Voucher Codes:

Do Your Research

Black Friday is a great day to pick up big ticket electronics, white goods and other high value items but many of the best deals tend to only be available for a very limited time. This year, we're anticipating the biggest discounts to be on screens over 48".

Do your research beforehand – if you have a particular TV in mind check which stores stock it and make sure they all deliver to your area or have a local pick-up facility so you don't get any dead ends on the day.

Be Prepared

Plan ahead and sign up to newsletters from your favourite retailers to stay clued up on all the best deals that are set to be available. Check product reviews beforehand so you can add items to your basket and click buy as soon as the discounts go live.

If you'd rather keep your inbox clean, keep an eye on pages like this for a rundown of the latest codes, deals and discounts from across the internet as they become available.

Try Things On

If there are particular items you can only justify buying with a discount, make sure you've been to the store and tried them on beforehand wherever possible. If you're deciding between a couple of different styles, take a selfie of the outfit in the changing rooms so you can refer back to it before you commit to the purchase.

Stick To A List – Whether you're planning to buy all your Christmas presents or just fancy treating yourself, the temptation to add things to your basket because they're oh-so-cheap can soon add up. Make a list of things that you know you definitely want to buy to help stay on track.

Set A Budget – If you're the type who gets easily swayed into buying things you don't really need, make sure you review your available budget ahead of the day and stick to it. It's always worth having a 'contingency budget' in case you see something that you can't be without.