Baroness Michelle Mone has come under fire for promoting a pill that claims to aid weight loss on Twitter.
The celebrity entrepreneur and founder of lingerie brand Ultimo retweeted a buy one get one free offer for the appetite suppressant made by TrimSecrets.
She added that she's using the pill to get a "bikini body for the beach at Xmas."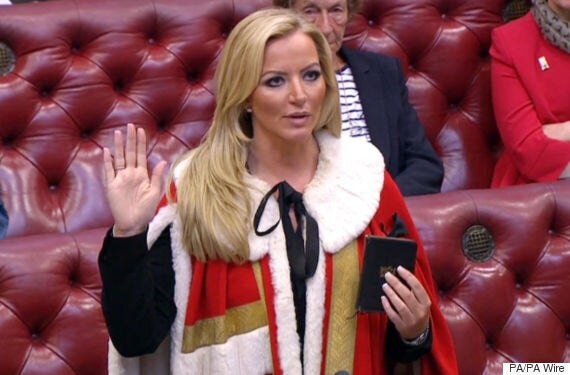 TrimSecrets claim their capsules can suppress the appetite while boosting the metabolism, supposedly aiding both men and women to lose weight when combined with the TrimSecrets 5 stage diet plan.
The diet plan includes exercising while eating just 1500 calories per day along with a TrimSecrets capsule taken three times per day before each meal.
A TrimSecrets spokesperson confirmed to HuffPost UK Lifestyle that Mone is not "an owner or shareholder" of the company.
Commenting on Mone's tweet, British Dietetic Association (BDA) spokesperson Aisling Pigott says it's "irresponsible to promote a message of 'quick fixes' with regard to weight loss".
"Losing weight involves many lifestyle and behaviour changes not 'magic pills'," she tells HuffPost UK Lifestyle.
"In addition, as there is no scientific basis or rationale for these products, they are making claims which are unfounded and feeding into public confusion around nutrition and pseudo-science."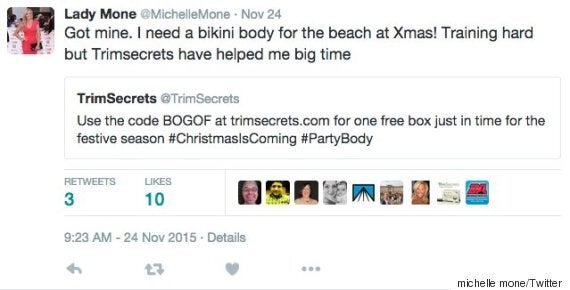 Charlotte Stirling-Reed, from SR Nutrition, echoes Pigott's concerns.
"Any messages that suggest a 'quick fix' to weight loss are unfair and misleading to the public and those who are trying to successfully make changes to their health," she tells us.
"Ultimately no pill, potion or magic food will solve obesity or make us healthy. It's about a lifestyle - not a magic solution - and that isn't likely to change any time soon.
"These pills are selling false hope to individuals, like so many diet pills and faddy diets we see on the market. It's also so important to remember that we are all individuals and what helps one person to lose weight may be entirely different from someone else."
She adds that some diet pills can have a negative impact on health and "individuals may react differently to some of the ingredients found within these pills".
"I'd recommend not buying any online and only taking those recommended specifically by your doctor," she says.
In a statement given to HuffPost UK Lifestyle, a TrimSecrets spokesperson said: "TrimSecrets is a fully FDA certified and approved herbal aid with a clinically proven, all natural weight-loss ingredient Sinetrol Xpur.
"This helps to increase the metabolism and suppress appetite - supported by a blend of essential vitamins and minerals that support the body whilst undergoing a weight loss programme.
"TrimSecrets is not, and has never claimed to be, a 'diet pill' and has guided and continues to guide, many people through successful, healthy weight loss through herbal supplements and following our 5 step slimming plan."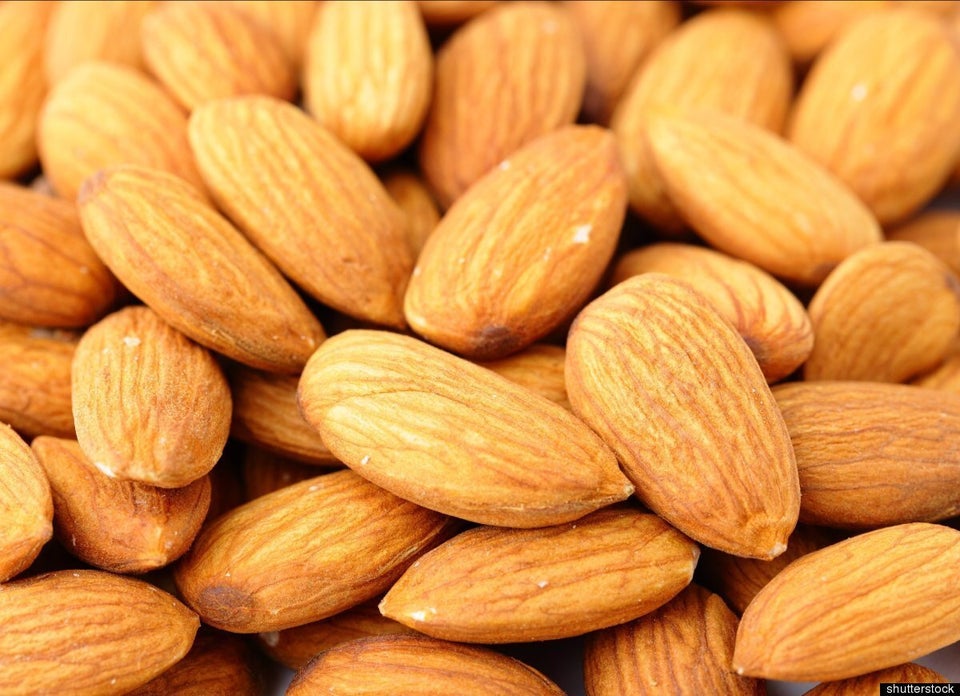 50 Of The Healthiest Foods