Investigators are stumped as to why baseball bats embedded with nails are appearing around a city.
At least 27 bats have appeared chained to posts around San Francisco over the past few days, Sky News reported.
The weapons began to appear last week, but police are yet to come up with a solution to the mystery.
Police Sgt. Michael Andraychak described the occurrence as "very strange", according to CBS San Francisco.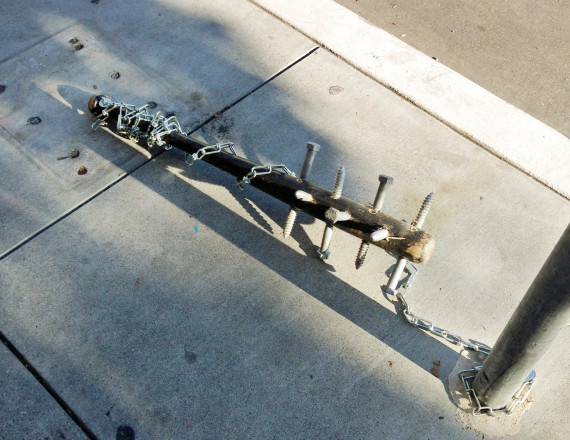 One of the bats found around the city
He said that the bats would be considered as prohibited deadly weapons because they had been altered with spikes and screws.
Police have not received any reports of injuries connected with the bats.
Gerrie Burke spotted one of the bats. He told ABC7: ""There were bolts in this thing. They had drill holes in it. They knew what they were doing. This was not put together in an hour."
Some people suggested that the weapons could be useful in the case of a zombie apocalypse…
It looks like someone is preparing for the zombie apocalypse in San Francisco https://t.co/82VLkM1AwNpic.twitter.com/vceGtIVt7n

— Chris Megerian (@ChrisMegerian) November 28, 2015
Note: if you become a zombie, don't go to San Francisco. 27 bats found chained around town: https://t.co/6X1OEJSlnzpic.twitter.com/ROzf3do4zU

— Matthew T. Hall (@SDuncovered) November 28, 2015
Like a real life zombie video game... 27 spiked bats found around San Francisco https://t.co/nBI4NN6SZW via @USATODAY

— Nick G. (@Dependent_Nick) November 29, 2015
But a police officer simply said told ABC7 that it was a waste of police resources.