Prince Charles and David Cameron are joining world leaders for the start of crucial talks on climate change, after more than half a million people marched in demonstrations worldwide calling for urgent action to curb rising temperatures.
All eyes are on the French capital, two weeks after extremists linked to the Islamic State group killed 130 people around Paris.
Fears of repeat attacks have prompted extra-high security and a crackdown on protests, and threaten to eclipse longer-term concerns about rising seas and extreme weather linked to man-made global warming, the Associated Press reported.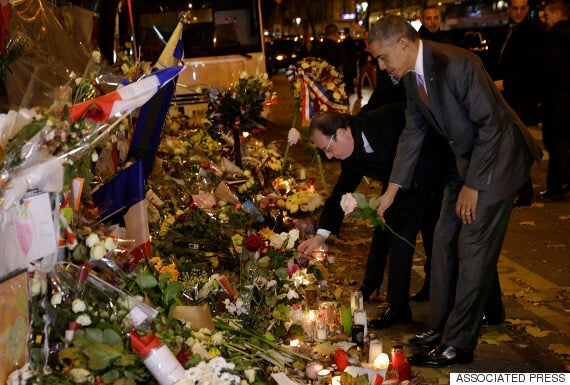 Barack Obama and Francois Hollande lay flowers for the victims of the terror attacks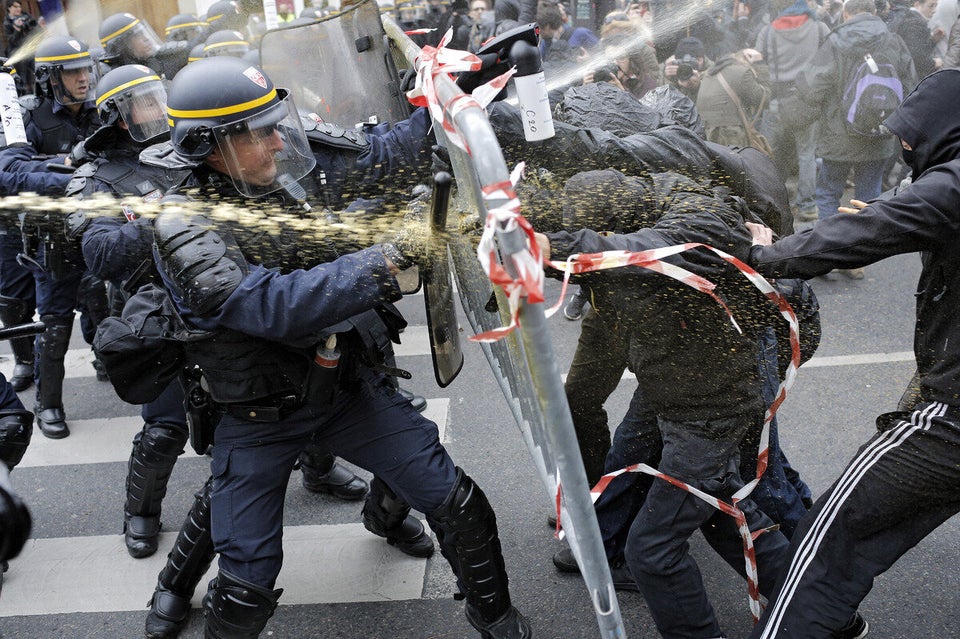 Paris climate march violence
The Prime Minister David Cameron is joining the Prince of Wales and leaders including US president Barack Obama for the first day of the negotiations, which aim to secure a global deal to stop "dangerous" climate change, the Press Association reported.
Cameron is set to call for a robust deal that shows governments are serious about cutting carbon, in his statement to the UN talks which are taking place in Paris.
Charles will give a key note speech to delegates at the 'COP21' talks, before going on to receive the Prix Francois Rabelais from the Institut de France, for his commitment to organic farming and protection of the environment.
COP21 is an acronym for the summit, and stands for the 21st Conference of Parties to the United Nations Framework Convention on Climate Change.
He has also attended a private dinner hosted by the British Ambassador to France, Sir Peter Ricketts, with leading experts on the environment and development, including former US vice president Al Gore, World Bank president Dr Jim Yong Kim, and Lord Stern, who wrote a key report on the economics of climate change.
Ahead of the conference, which kicks off amid tight security in the wake of the terror attacks in the French capital, more than half a million people are estimated to have marched in cities around the world calling for ambitious action to boost renewable energy and protect vulnerable people.
In London, tens of thousands of people braved the rain and the wind to march through the streets to Westminster, in the biggest demonstration on climate change seen in the UK.
Labour leader Jeremy Corbyn received a deafening applause when he sent a message on behalf of campaigners to politicians gathering for the talks in Paris, telling them: "Do what you are sent there to do."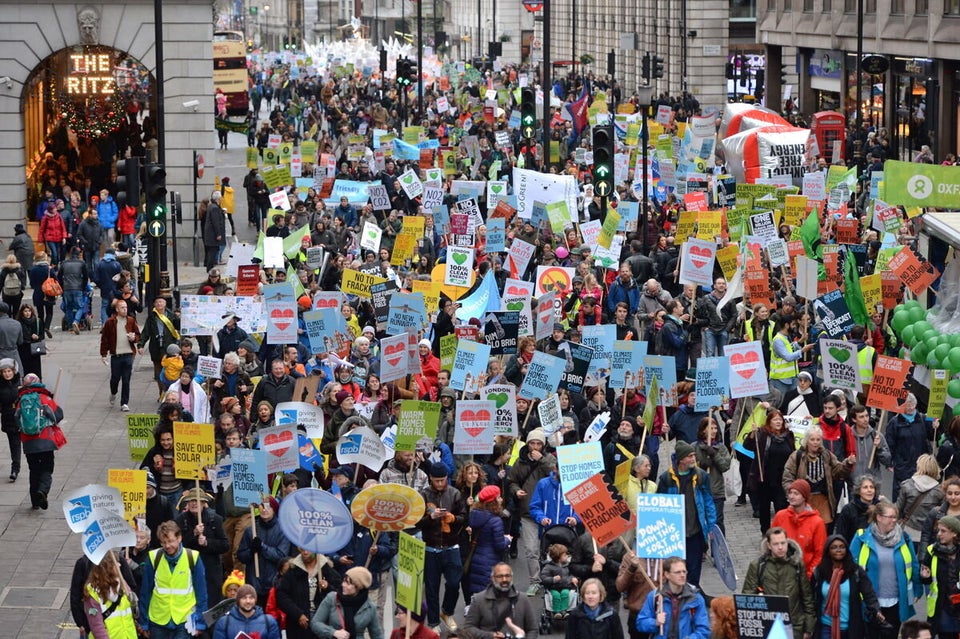 Climate change march London
The conference is the latest step on a long - and often tortuous - road to securing international agreement on cutting greenhouse gas emissions in a bid to prevent global temperatures going more than 2C above pre-industrial levels and causing "dangerous" climate change.
Mr Cameron is expected to tell gathered leaders and negotiators: "The UK has a strong domestic framework to deal with the issue of climate change – a model which is being exported to other countries.
"I want to see a similarly robust system at an international level – one that recognises that an agreement in Paris is just the start.
"We must include a five-yearly review mechanism to increase ambition in the future. Whilst emission reductions should always be pledged country by country, we must review our ambition regularly if we are to hit our final two degree goal.
"I also want to see a long-term goal in the agreement. This will give certainty to businesses and the public across the world that governments are serious about decarbonising."
He will tell the conference that the issue of climate change is one that is too big for governments alone to deal with.
"That is why business and private donors must play an active role in shaping our response to climate change, and enabling trillions of dollars of investment in clean technology.
"I want the deal in Paris to outline the role that businesses should play. We also need to give businesses long-term certainty for investment, which is why an ambitious long-term goal is so important."
And he will say that the conference must support the poorest countries, an issue he says the UK has led the way on by committing £5.8billion in this Parliament, up to 2020.
But the Government has come in for criticism from many quarters in recent months on the home front for curbing support for renewables and energy efficiency measures.
Just days before the conference began, ministers also announced they were axing a £1 billion scheme to develop technology to capture and store technology from power stations, despite backing new gas plants.