Jeremy Corbyn is preparing for a showdown with his Shadow Cabinet today over military intervention in Syria, after the boss of Britain's largest union warned Labour MPs "they are writing their own political obituaries" if they defy him by voting to bomb Isis.
Corbyn is due to announce whether he will order Labour MPs to oppose the Prime Minister's plan to bomb Syria in a vote which is expected to take place within days.
Speaking on Monday morning, Labour's shadow international development secretary Diane Abbott said Corbyn should impose the whip on his MPs in an attempt to force them to vote against military strikes.
"We are a party of government and a party of government has to have a position on matters of peace and war. The problem about a free vote is that it hands victory to Cameron over these airstrikes, it hands victory to him on a plate," she told BBC Radio 4's Today programme.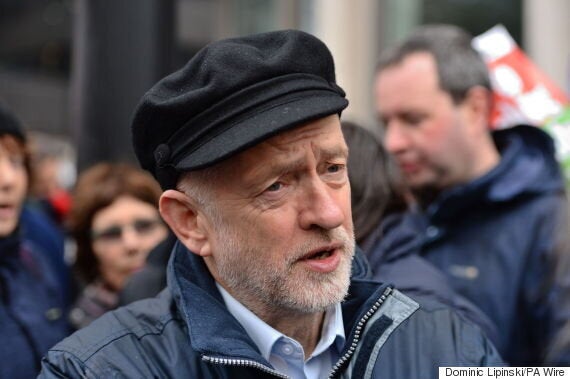 Writing on the Huffington Post UK, McCluskey said that the union would resist any attempts to stage a coup against the Labour leader.
He wrote: "And they are playing with fire. Any attempt to force Labour's leader out through a Westminster Palace-coup will be resisted all the way by Unite and, I believe, most party members and affiliated unions."
McCluskey's comments featured on many of today's front pages: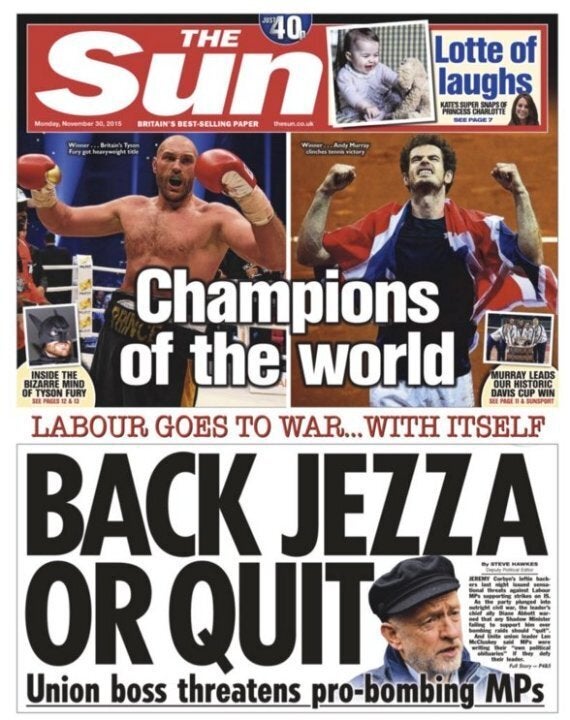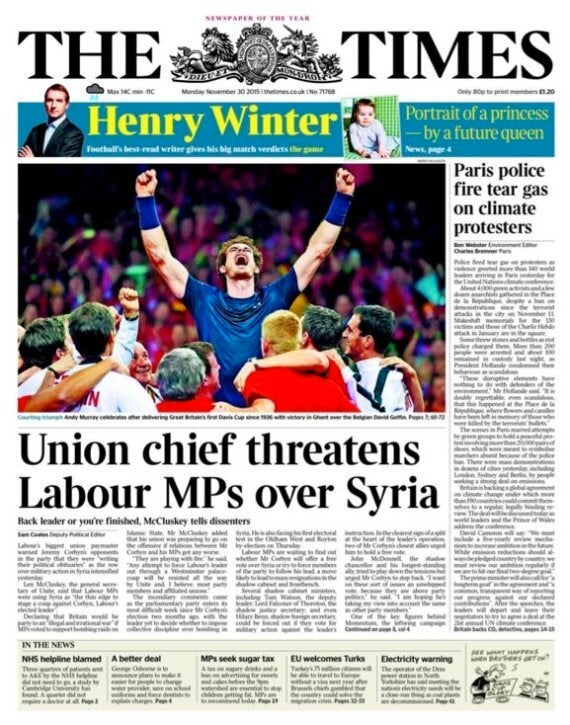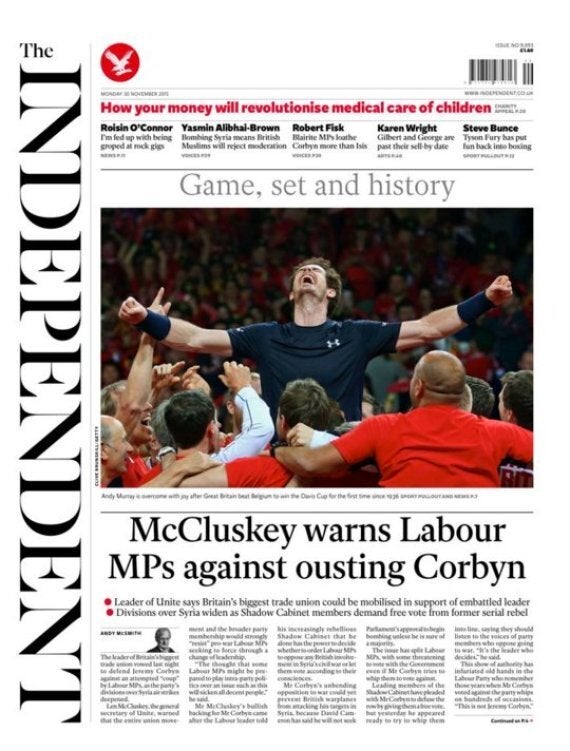 McCluskey accused Corbyn's opponents of using Syria as the "thin edge to stage a coup".
He made it clear that he believed Cameron's plan to extend air strikes from Iraq to Syria was "illegal and irrational".
"Backbench MPs are even calling on him (Corbyn) to quit for having the temerity to maintain his values and principles, with one even comparing him disgracefully to a 'fuhrer'. That is not open debate, it is abuse and should have no place in the party," McCluskey wrote.
"The thought that some Labour MPs might be prepared to play intra-party politics over an issue such as this will sicken all decent people."
The Unite boss's comments have sparked a debate, with some believing that he makes a valid point:
totally agree with len mccluskey today, i was making the same point myself yesterday and day b4.

— Wes G (@DJWESG) November 30, 2015
While others believe it is not his place to comment on how MPs vote:
In an interview on the BBC's Andrew Marr Show, the Labour leader said Labour MPs should "think through" the implications of their decision, arguing the Government's plan would lead to civilian casualties, could radicalise Britons, lacked sufficient United Nations authority and relied on questionable "moderate" ground forces.
Shadow Foreign Secretary Hilary Benn is one of Labour's senior MP's to disagree with the leader, saying there is a "compelling" case for bombing Islamic State in the civil war-ravaged country.
Corbyn is expected to publish the results from a survey of Labour activists' opinions on Syria this morning, before gathering his senior team for a last-ditch effort to hammer out a collective position.
Labour is then due to hold a meeting this evening.
Shadow chancellor John McDonnell, Corbyn's closest ally, and deputy leader Tom Watson are among those who have urged a free vote.
Shadow justice secretary Lord Falconer confirmed there were "significant differences" within the shadow cabinet, and he did not think it would be possible to reach a collective view. A majority of the team is thought to favour air strikes.
"My own view is I don't think this very very important issue should be a situation that forces resignations on people," the peer told the BBC's Sunday Politics.
Pressed on whether he personally was ready to resign, Lord Falconer said: "I don't want to comment on that."
Even MPs who share Corbyn's opposition to air strikes and believe he should whip the vote have expressed despair at his handling of the situation.
Jess Phillips told BBC Radio 4's The World This Weekend: "If the Labour Party as a collective group of people cannot have a consensus position on this, that is very, very lamentable.
"I think it's been handled appallingly."
Related