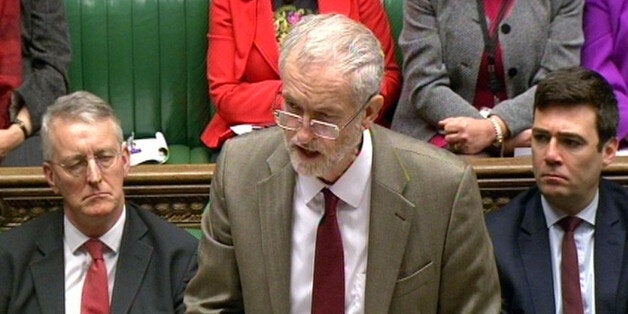 Jeremy Corbyn has decided to allow Labour MPs to vote for RAF bombing in Syria – paving the way for airstrikes possibly as early as this week.
The Labour leader told the Shadow Cabinet that he would grant a free vote if David Cameron puts the issue before the Commons on Wednesday as expected.
HuffPost UK understands that Mr Corbyn informed his colleagues that party whips had assessed that 43% of Labour MPs wanted to vote to bomb ISIL in Syria - 99 of its 231 MPs.
With backing from his own MPs, plus the Democratic Unionist Party, that would give David Cameron the 'clear majority' he seeks for military action.
The Prime Minister will make a statement tonight on Syria after the TV news bulletins at 8pm.
On a dramatic day at Westminster, Mr Corbyn's free vote decision avoids a mass-walkout of senior Shadow Cabinet ministers, many of whom believe the UK should be bombing ISIL because its command and control operation in Raqqa poses a direct threat to British citizens.
The move followed a weekend of intense negotiations with deputy leader Tom Watson, who along with Shadow Foreign Secretary Hilary Benn had argued that a free vote was crucial for Parliamentary party unity.
Mr Benn is understood to have complained at suggestions that he would not be allowed to publicly express his different view from Mr Corbyn, stating that he would speak out even if he had to do so "from the back benches".
Senior sources told HuffPost UK that Mr Corbyn also told colleagues that he felt party policy should be to oppose airstrikes in Syria - after his email consultation found that '75%' of rank and file members felt Cameron hadn't convinced them of the case for war.
But in a tense two-hour meeting, some of the Shadow Cabinet disputed that there could be both a free vote and a 'strong anti-bombing" policy position. Andy Burnham said he would not be part of a 'sham Shadow Cabinet'.
According to one Shadow minister, Mr Corbyn was told by his colleagues that there was 'no party position' on the issue and was forced to agree that while he would open the Syria debate, Mr Benn would close the debate.
In a highly unusual move, Mr Corbyn and his Shadow Foreign Secretary will use the debate to set out their different interpretations of whether the Government had met Labour's key tests for bombing set at party conference.
In a letter to the Prime Minister, Mr Corbyn called for a delay the vote – which is expected to take place this Wednesday - to allow more time for MPs to hear the Government's case.
Mr Corbyn also said he wanted Mr Cameron to hold a two-day debate, a plea first raised by Shadow Commons Leader Chris Bryant, in order to allow a thorough debate and as many MPs as possible a say.
The Prime Minister will be relieved that Labour has now agreed a free vote as it makes it much more likely that he can get the numbers he needs to allow the UK to extend its military operations from Iraq to Syria.
He has said he will only call a Parliamentary vote on joining United States and French anti-ISIL airstrikes in Syria if he is confident he will win a 'clear majority'.
Yet Mr Cameron's narrow Government majority – of just 16 – coupled with SNP opposition means the support of Labour MPs is crucial to gaining Parliamentary approval for strikes.
In his letter to Mr Cameron, he said: "As of this morning we have not had a clear proposal from the government on when you plan to bring forward a motion to the House on air strikes in Syria or on arrangements for the debate.
"In the view of the Opposition on a matter of such critical importance there must be full and adequate time for any debate in the House and only a full two day debate would ensure time for all Members who wish to participate to be able to do so.
"As has happened previously a one day debate would inevitably lead to important contributions being curtailed. It is incumbent on us all to ensure the country feels there has been the fullest parliamentary discussion of what you have rightly described as a highly complex situation.
"In addition the debate would be much better informed by views from the Foreign Affairs and Defence Select Committees following your recent statements."
HuffPost UK has learned that Tom Watson - who has already said the PM has made a compelling case - wrote his own letter to the Prime Minister tonight, warning "I do not believe you have given proper time to build consensus".
"As Jeremy Corbyn has made clear, parliament needs more time to make a considered decision on whether air strikes can take place."
Rather than a two-day debate, Mr Cameron may table a motion to allow the debate to go to any hour - in effect allowing an open-ended session of Parliament.
The debate over whether to authorise military action has exposed the big gap between the Parliamentary Labour Party and its leader.
Yesterday, Len McCluskey, the Unite union general secretary, accused Corbyn's opponents of using Syria as the "thin edge to stage a coup".
"The thought that some Labour MPs might be prepared to play intra-party politics over an issue such as this will sicken all decent people," he said.
The Commons Foreign Affairs Committee is due to meet tomorrow to discuss Cameron's response to its initial report which argued against action. The committee's chairman, Tory MP Crispin Blunt, reversed his position last week and said he now backed strikes.
Nicola Sturgeon, the SNP leader and Scottish first minister also attacked Corbyn for making bombing more likely. SNP MPs will vote against airstrikes.
Corbyn's decision did not please everyone who is supportive of his leadership. Former MP George Galloway said Labour's leader had made a "fateful tactical strategical and moral error of grave magnitude".
And Lindsey German, the convenor of the of Stop the War Coalition, said Corbyn's decision made bombing "more likely". The Labour leader used to be chair of the anti-war group
The decision to hold a free vote is also awkward for Corbyn's close ally Diane Abbott, who this morning argued the leadership should impose a three-line whip on MPs.
"We are a party of government and a party of government has to have a position on matters of peace and war," the shadow international development secretary said.
"The problem about a free vote is that it hands victory to Cameron over these airstrikes, it hands victory to him on a plate. I don't think that's what party members want to see. I think it's a matter for the leader, in consultation and in particular in consultation with the chief whip."
Senior Tory backbencher David Davis said he backed Corbyn's call for a two day Commons debate.
"The decision to go to war is by definition a matter of life and death. If the Government is seeking the authority of Parliament to undertake such a policy it should do so on the basis of the best-informed, and most carefully considered, debate," he said.
"It is perfectly possible to fit a two-day debate in before Christmas, while also giving the relevant select committees the time to review the issue in detail."
John Woodcock, chair of the party's backbench defence committee and a strong supporter of military action, said: "If Jeremy has backed down on a free vote it's good. But to suggest the party has a clear policy of opposition - I don't know where that would come from. Shadow cabinet? Party conference resolution? 72 hour online poll that excluded many party members?"
Related