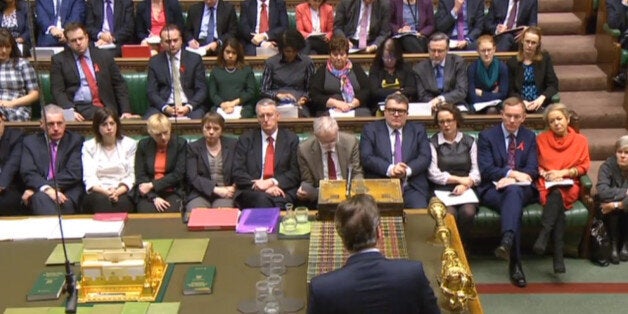 MPs will today vote on a 236 word, 12-point motion to authorise bombing raids in Syria. It has been drafted to mirror almost exactly Labour's recent party conference motion which set key tests for any military action. In 12 points, this is what it means.
"That this House notes that ISIL poses a direct threat to the United Kingdom."
The Paris atrocities demonstrated terror exists "on our doorstep", Defence Secretary Michael Fallon said. David Cameron has said security services have foiled seven extremist plots against the UK in the past year. Details of where, when, how and what have remained under wraps.
"Welcomes United Nations Security Council Resolution 2249 which determines that ISIL constitutes an 'unprecedented threat to international peace and security' and calls on states to take 'all necessary measures' to prevent terrorist acts by ISIL and to 'eradicated the safe haven they have established over significant parts of Iraq and Syria'. Further notes the clear legal basis to defend the UK and our allies in accordance with the UN Charter."
The UN has approved a French proposal which authorises "combat by all means" against ISIL. But resolution 2249 does not provide any legal basis for military action, nor does it invoke chapter seven of the UN charter that authorises the use of force, which has alarmed anti-interventionists.
Ministers consider resolution 2249 as important politically, not legally. The legal justification is based on Iraq's request for military help in combating ISIL and collective self-defence if a member of the UN is under attack.
"Notes that military action against ISIL is only one component of a broader strategy to bring peace and stability to Syria."
Cameron last week laid out his "four pillar" strategy. Aside from military action, there's counter-extremism, support for the diplomatic and political process (Iran, Russia, Saudi Arabia, America, France, Turkey and Britain working towards the transition to a new government in Syria), and humanitarian support, including £1 billion for the post-conflict reconstruction effort.
"Welcomes the renewed impetus behind the Vienna talks on a ceasefire and political settlement."
Peace talks which got under way in Vienna last month. Arch-rivals Iran, effectively representing for the Assad regime, and Saudi Arabia, for those who oppose him, sat round the table with other significant players in an effort to end the protracted civil war.
"Welcomes the Government's continuing commitment to providing humanitarian support to Syrian refugees."
The UK will take up to 20,000 Syrian refugees over five years and has ploughed around £1 billion in to aid.
"Underlines the importance of planning for post-conflict stabilisation and reconstruction in Syria."
The Government is relying on the 70,000 'moderate' ground forces to remove ISIL and £1 billion in support to pave the way for a new regime. Yet while the Government is clear that Assad "must go", there remains the problem of Russia still wanting to protect its interests in the region: for security, military bases and economic ties.
"Welcomes the Government's continued determination to cut ISIL's sources of finance, fighters and weapon."
Seizure of central bank reserves, the illegal trade in oil and private donations have swelled ISIL's coffers makes to make it the the richest terrorist organisation in history, underpinned by an extensive arsenal taken from Syria and Iraq. Chancellor George Osborne discussed "financial sanctions" yesterday but shrinking ISIL's territory is seen as the centrepiece of a package of measures to dry up the flow of money to the group.
"Notes the requests from France, the US and regional allies for UK military assistance."
Solidarity has been a familiar refrain. Mr Cameron said in the aftermath of the Paris attacks allies will be asking: "If not now, then when."
"Acknowledge the importance of seeking to avoid civilian casualties, using the UK's particular capabilities."
The RAF Tornado aircraft provides something that allies don't have. Its Brimstone missiles, already being used in Iraq, are accurate weapons which have "the lowest level of civilian casualties", say ministers. Defence Secretary Michael Fallon believes there has not been a single civilian casualty in RAF attacks in Iraq.
"Notes the Government will not deploy UK troops in ground combat operations."
The Prime Minister has been at pains to make clear any motion put before MPs would not involve sending in British troops. It's why the 70,000 'moderate' Syria fighters matter. They will be relied upon to take up the fight once ISIL is "degraded" by bombing.
"Welcomes the Government's commitment to provide quarterly progress reports to the House."
Ministers are braced for a long campaign, and an attempt to re-assure MPs who fear a blank cheque has been written for protracted strikes.
"Accordingly supports Her Majesty's Government in taking military action, specifically airstrikes, exclusively against ISIL in Syria and offers its wholehearted support to Her Majesty's Armed Forces."
Backing the RAF that is leading the missions but also a reference to the attacks being limited to iSIL, and the brutal Syrian ruler President Bashar al-Assad - which is what the failed Commons vote in 2013 would have authorised.
Popular in the Community