After some difficult days leading up to Wednesday's vote to extend British military airstrikes in Syria, Jeremy Corbyn received a welcome boost on Friday morning, Labour scoring a thumping win in the Oldham West and Royton by-election. Jim McMahon retained the seat for the party with a majority of more than 10,000 votes.
McMahon registered 17,209 votes, a vote share of 62 percent, up 7 percent from the general election. Ukip's John Bickley received 6,487 votes, Conservative James Daly received 2,596, while Jane Brophy of the Liberal Democrat registered 1,024. Sir Oink A-Lot of the Monster Raving Looney Party went home with 141 votes.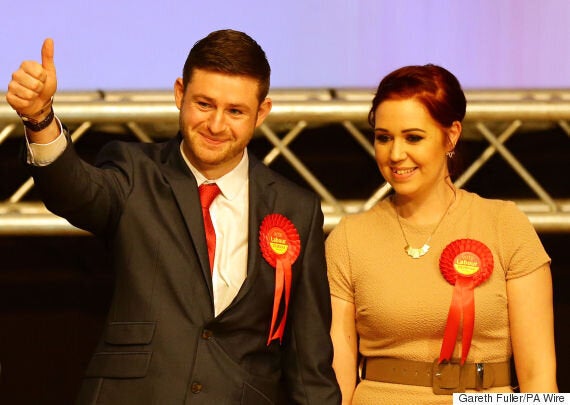 Jim McMahon with his partner Charlene celebrates victory at the Oldham West and Royton constituency by-election count in Oldham
After the result was announced, McMahon was asked if it was a victory for Corbynism. "It is just a victory for the Labour Party, a lot of hard work by a lot of volunteers who have come out to vote," he replied.
Speaking to the BBC, the former leader of Oldham Council added that he was "delighted to have been elected tonight."
McMahon praised the late MP Michael Meacher, who he described as a "close friend" who was "admired by people across the country as someone who worked tirelessly for the causes he believed in."
"I will do my best to live up to those high standards," he added. "My sole focus has always been on what is best for Oldham, I want to make our town a better place for my sons to grow up in and make it somewhere they can be proud of, my priority will always be Oldham."
"We also need to remember what is currently at stake under this Tory government. While everyone is looking the other way they are quietly pushing through cuts that will change the face of towns like Oldham," the MP said. "The sooner we kick the Tories out and get a Labour government back in, the better for all of us. The hard work starts now."
Ukip had threatened to add to Labour's woes by scoring an unexpected victory in the constituency, but the anti-European party failed to make a significant breakthrough, with Labour's sweeping success attributed to a postal campaign.
However, tweeting after the announcement, Ukip leader Nigel Farage decried the result as "perverse," noting, "Serious questions need to be asked". The Ukip chief said he had "evidence from an impeccable source that today's postal voting was bent."
On Farage's claim of voting corruption, McMahon said: "There is nothing wrong with people making a democratic decision not to support Ukip."
Labour's leader Corbyn celebrated the result by calling it "a clear demonstration that Labour is the party working people trust."
"I am delighted that Labour has not only won the Oldham West and Royston by-election - but increased our share of the vote since the general election in May," he said. "By-elections can be difficult for the party holding the seat, and turnouts often low. But to increase our share of the vote since the general election is a vote of confidence in our party."
"Our determination to oppose Tory austerity policies, and our successes in pushing them back on tax credit and police cuts show that Labour is getting results for working people," he added.
Jim McMahon (Labour) - 17,209 (62.11%)
John Bickley (UKIP) - 6,487 (23.41%)
James Daly (Conservative) - 2,596 (9.37%)
Jane Brophy (Liberal Democrat) - 1,024 (3.70%)
Simeon Hart (Green Party) - 249 (0.90%)
Sir Oink A-Lot (Monster Raving Loony) - 141 (0.51%)