Tony Benn's granddaughter has asked Alex Salmond to retract "deeply offensive and simply untrue" claim that her grandfather would be spinning "in his grave" at the speech Hilary Benn gave advocating bombing Islamic State in Syria.
The Shadow Foreign Secretary won applause from all parties in the Commons after he spoke advocating airstrikes against IS, the opposite position his party leader Jeremy Corbyn took during the debate.
He said Benn senior, the hero of Labour's Left who died in 2014, would be "burling in his grave hearing a speech in favour of a Tory prime minister wanting to take the country to war. And that's just the reality".
O'Brien said it was "not a political comment" but a "personal" one.
Salmond said: "I think it's a fair political comment..."
Ms Benn, Hilary's niece, immediately tweeted:
LBC host O'Brien asked Salmond if he was "as bitter as those activists not clamouring for de-selection" of Labour MPs who voted for the bombing.
When Salmond started to deny it, saying he opposed personal abuse but O'Brien pressed him on the comment about Tony Benn, to which Salmond said: "It's not abuse. That's fair comment."
"I think it's a fair comment about the contrast between the two Benns I've seen in the House of Commons," Salmond added, when asked if it were ad hominem.
Ms Benn later tweeted "all our thoughts are with the brave RAF servicemen and women, who are serving our country".
Twitter's reaction was scathing.
Benn has already faced comments about his father from the SNP.
After hearing Benn's speech, Salmond's party colleague George Kerevan said that his father would be "ashamed" of his son's stance on war. Emily Benn asked him to "examine his conscience" about the tweet.
This was in stark contrast to what another SNP MP, Stewart McDonald, said. He tweeted that such comments were "repulsive".
Labour MP John Woodwock, who has previously called the SNP in parliament "robots", thanked McDonald, saying standing up to party colleagues "takes courage".
Shortly after the vote on Thursday, Salmond was accused of being a "sore loser" about it, after he accused speaker John Bercow of bias for allowing Benn and Foreign Secretary Philip Hammond extra time for their closing speeches, advocating air strikes.
He also complained that Benn's speech swayed between 15 and 20 Labour MPs to vote for Cameron's motion.
Speaking to Sky News' Adam Boulton, he denied he was being "churlish" in his response.
Boulton put it to him Benn had given "one of the great parliamentary speeches". Salmond replied: "Sure, it was a good speech".
He complained that Benn and Hammond were allowed to close the debate, despite both arguing for the strikes. Boulton pointed out that they were from different parties.
Salmond said: "It's up to the speaker to make sure all sides are heard fairly in a debate and especially a debate in this where there's a range of opinion.
The speaker's not responsible for the divisions of the Labour Party but he could've allowed another speech for the amendment to balance the debate."
This defence did not spare him criticism for acting like "a sore loser" over the vote.
But at least one person sided with him against Boulton.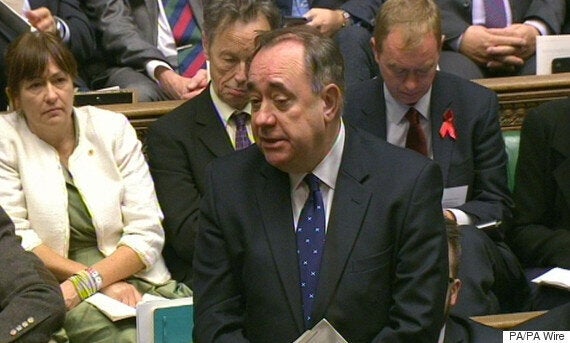 Alex Salmond speaking during the debate
Salmond and his 53 SNP colleagues in Westminster (two of the 56 elected in May have since resigned the party's whip) were among the 223 MPs to vote against the air strikes.
Related