Boxing champion Tyson Fury has been challenged to a fight by a Labour MP, as the controversy over his alleged "homophobic views" prompts a petition arguing he should be axed as a contender for the BBC's Sports Personality of the Year.
The champion made the comments in the Mail on Sunday last month. The paper reported Fury as saying: "There are only three things that need to be accomplished before the devil comes home.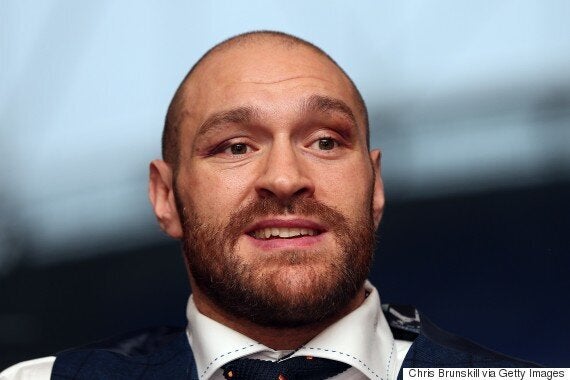 Tyson Fury beat Wladimir Klitschko to become world heavyweight champion
"One of them is homosexuality being legal in countries, one of them is abortion and the other is paedophilia. Who would have thought in the 50s and 60s that those first two would be legalised?"
Fury continued: "When I say paedophiles could be made legal, it sounds crazy. But if I had said to you about the first two being made legal in the 50s, I would have been looked upon as a crazy man. "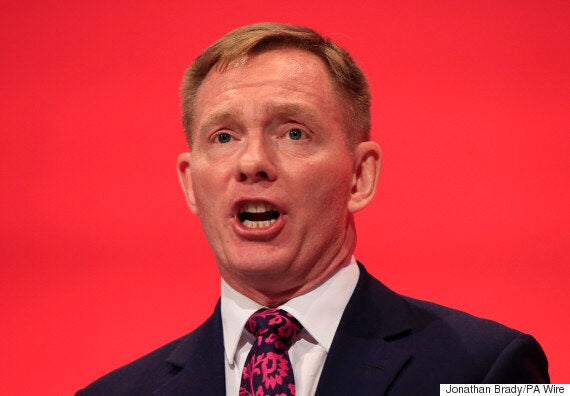 Chris Bryant MP told the Commons: "I'm quite happy to go head-to-head with him"
A former shadow minister for sport used a speech in the House of Commons to lambast Fury's comments – and to challenge him to go "head-to-head".
Chris Bryant, who is also a former Anglican priest, told the Commons on Thursday: "You will have seen that Tyson Fury won the world heavyweight boxing title last weekend and he has now been nominated for the BBC's Sports Personality of the Year. I hope he doesn't win.
"Leaving aside the bizarre, rather heterodox theology (in Fury's comments), this equates homosexuality with paedophilia. As I hope the Leader would agree, that is profoundly offensive and it's the kind of language that leads to more young people committing suicide.
"Now, I gather Mr Fury has subsequently said that some of his best friends are gay. So can I suggest that we invite him to parliament sometime in the near future because frankly I'm quite happy to go head-to-head with him."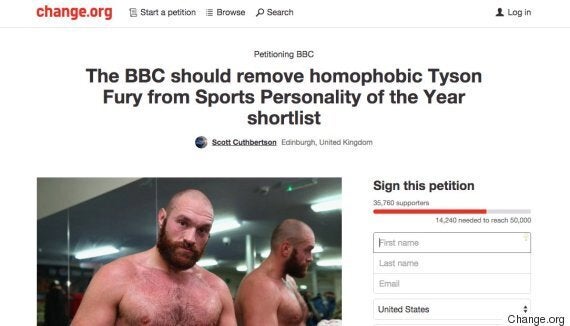 The petition gained 30,000 signatures in 24 hours
The Change.org petition, launched by gay rights activist Scott Cuthbertson, argues that Fury should not be among the final names to be considered for the broadcaster's annual sporting award on Monday.
Cuthbertson wrote: "The BBC clearly do not understand that by nominating Fury, who has on a number of occasions expressed homophobic views and compared homosexuality to paedophilia, they are putting him up as a role model to young people all over the UK and the world.
"There is NO place for homophobia in sport."
Meanwhile, Fury has disputed the Mail on Sunday's account of his conversation with their chief sports writer Oliver Holt, directly attacking the reporter on Twitter.