When Apple unveiled the iPad Pro we'll be honest, we wondered why.
In our preview we loved the design, the power and even the typing experience but were worried about the potential cost being so severe that it would become nothing more than a toy for those that spend their days typing absolutely nothing in the hundreds of independent coffee shops dotted around the globe.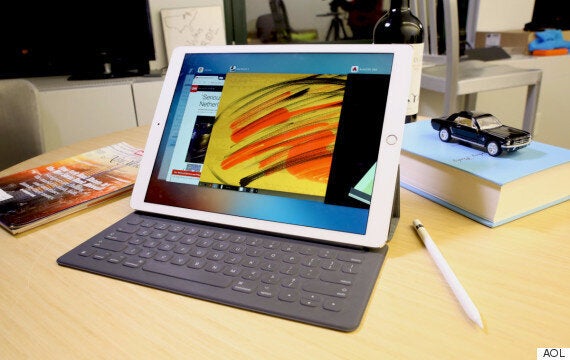 Well now we know the price and yes, it is pricey, but not as pricey as it could have been. To put it into perspective the Mac Pro, Apple's only other device to carry that moniker, starts at £2,499.
It's not just the price though, by calling this the iPad Pro Apple is making a clear and bold statement that it thinks a tablet is now ready to not only replace your laptop, but outperform it.
Does it do this? We've replaced our personal laptop with the iPad Pro for a full month and here's what we discovered:
The iPad Pro Is Utterly Portable
The Pro, much like the Surface, is a hybrid. Unlike the Surface though, the Pro is approaching the idea of workstation from a tablet-first ideology.
For starters, the iPad Pro is incredibly thin. Take off the keyboard case and it feels remarkably light and portable. No we didn't try and do anything with it on the tube, but around the home the Pro quickly felt like a suitable replacement for any netbook or browsing tablet for the sofa.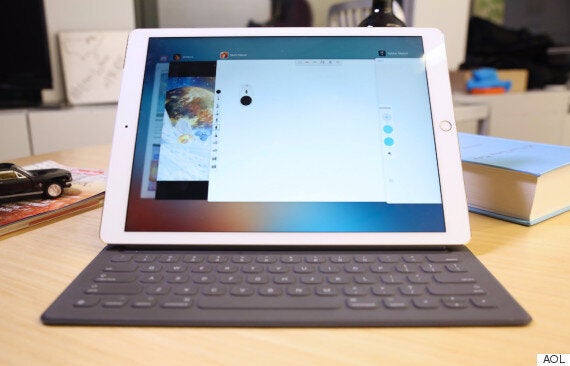 Add the Smart Keyboard and the Pro admittedly becomes heftier. It's still a big improvement on say a MacBook Pro or any other laptop.
We were worried that by carrying over the same design as the iPad Air, the Pro might feel more prone to scratches or bumps than your average laptop. We haven't found this to be the case at all although you might want to keep a screen cleaning cloth handy because like every other iPad, the Pro is an absolute fingerprint magnet.
If you're really worried about the body though Apple does sell a Silicon case, however we tried it and felt it just added so much bulk that it almost negated many of the advantages that come with using what is ostensibly a tablet.
The iPad Pro Is Officially Your New Home For Netflix
It's odd that it has taken a giant tablet for a tech company to understand that laptops are for many, the main screen used when consuming media.
Thousands of students for starters, and then everyone else who likes watching stuff in bed. Yet so often laptop speakers are dull, lifeless and their displays not worthy for the now standard HD content that's on offer.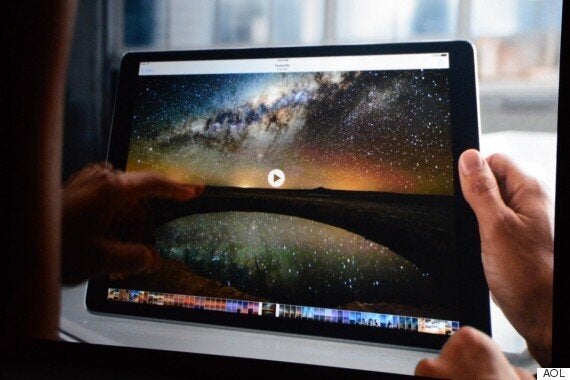 Apple's iPad isn't the ultimate solution but it's a big step in the right direction. For a company that still inexplicably only places one tiny speaker at the bottom of its iPads/iPhones, the iPad Pro has nails how audio should be approached on a portable device.
Four separate speakers at each corner of the display pump out loud, clear and balanced audio. No it won't have the kind of bass response you'd get from a pair of dedicated speakers but the Pro's speakers are brilliant for their size and more than adequate for bedtime viewing.
Then there's the display. It's 12.9-inches, has a resolution of 2732x2048 and it's absolutely glorious. Yes it's the highest resolution display Apple has put on any portable device but actually the iPad Pro's display isn't good because of how many pixels it has.
Apple's done some heavy tinkering and created a display which features an adaptive frame rate. The simple upside of this is that it makes the display ultra-power efficient both on the processor and the battery.
iPad Pro Works Harder Than Your Laptop
Which leads us on to the next point: battery life. The iPad Pro, despite being thinner than our iPhone 6s, has a better battery life than our MacBook Air and our MacBook Pro. Which is frankly absurd.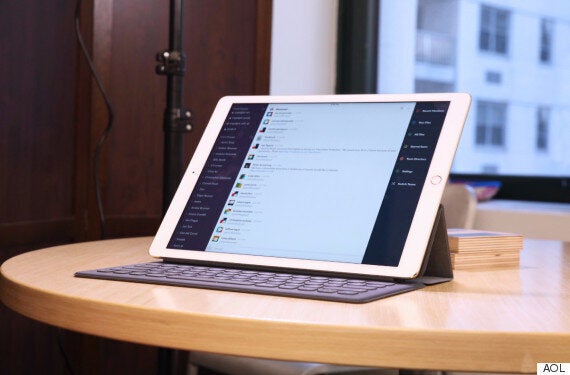 This was after a full day's working including using Pages, iMovie, Netflix, Music App and a small (ok not so small) dose of Fallout Shelter.
A word of warning, you'll need that larger iPad plug though, try and charge it with either the iPhone or Apple Watch plug and you'll be waiting around for AGES before it hits 100 per cent again.
Working on the iPad Pro is learning curve because instead of a mouse you're using your finger. The productivity improvements made to iOS now mean that you can finally use your iPad as a legitimate work tool. Indeed we've been writing all our reviews and features on the iPad Pro.
The Smart Keyboard feels great to type on with a satisfying tap (not a click) accompanying every key press. If we had one issue it was that there's no backlight. Just because it's your first smart keyboard doesn't mean you have to start all the way back where the Surface did. If the Surface Pro 4 can include a brilliant backlit keyboard then for £139 we'd absolutely expect the same for the iPad.
Another big problem, and this might be a deal-breaker for some, is that you can't adjust the position of the screen with the keyboard. We know that's so they can still have their clever origami folding cover but Apple's a master of solving problems and it seems odd that they didn't think to tackle this one.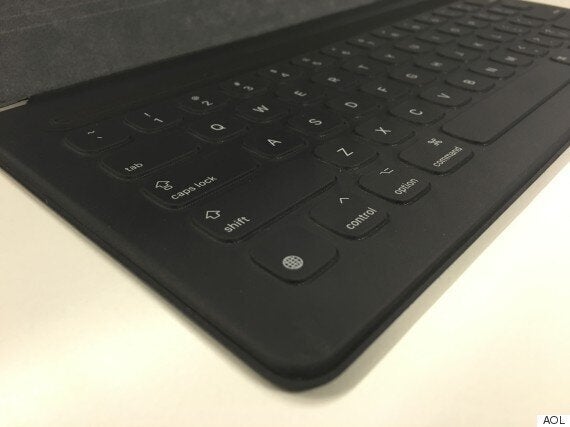 One small but considerable problem with the iPad as a work tool is one that has been troubling us for years anyway, and it's not Apple's fault.
It is that quite simply companies are not keeping up. As a journalist we have to file copy on the move, that means inputting it directly into a piece of web-based software that then publishes to the site. Every online journalist has to go through this same process, and as of yet, I've never met a single tool that lets you work comfortably on a tablet or smartphone.
It's astonishing really, considering how mobile journalists and indeed much of the workforce is now that companies are still dragging their heels when it comes to working on the move.
If you're lucky enough that much of your work can be done through a provided app or tablet-friendly web portal then you're in luck because the iPad Pro is literally itching to make use of it.
It Will Be At The Top Of Every Artist's Christmas List
The Surface Pro arguably held the crown for being the best computing device to utilise a stylus, well now there's competition in town and Apple hasn't held back.
The Apple Pencil is an ultra-precise tool that automatically connects over Bluetooth and can detect angle and pressure. It looks like something born out of the old Apple sketchbooks and even though we're far from a Van Gogh we absolutely love it.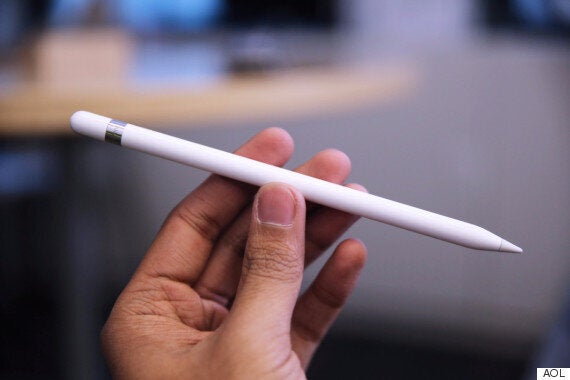 Apple's attention to detail has been so precise with the Pencil that even for the most demanding artist or designer you're only really going to be able to find fault with the software you're using it with.
The precision of the Pencil is minute while the latency on drawing is at a near-imperceptible level. Apple has taken far too long to utilise its iPad screen but now with the Pro we're getting to let loose.
iPad Pro is for us, a game changer. We loved the Surface, and indeed we still do, but it really only gives you the performance and productivity you want if you absolutely invest in Windows as an ecosystem.
Oddly Microsoft has prevented the iPad from feeling like that by providing the Pro with such a comprehensively brilliant suite of Office apps that it never feels like you're compromising by working on a tablet.
Of course if you're already even slightly invested in Apple's ecosystem then everything is easier, all your productivity tools are synced with the cloud while improved integration with other cloud storage services means that the only time you start feeling stuck is when you start using your own company's tools.
iPad Pro is here, it's ready, and it's brilliant. The only problem it has is that it's waiting for the rest of the world to catch up. If that last hurdle doesn't exist for you, then now's as good a time as any to seriously consider ditching that laptop.