A mum is claiming a children's toy she bought for her one-year-old is teaching her children to say the F word.
Ashley Senior said when the French setting of the Little Tikes 'My first remote control' is activated, the toy says 'f***'.
The mum-of-three posted a video of the toy, which is designed to teach children numbers and words in both England and French, to Facebook and others agreed it sounded like a swear word.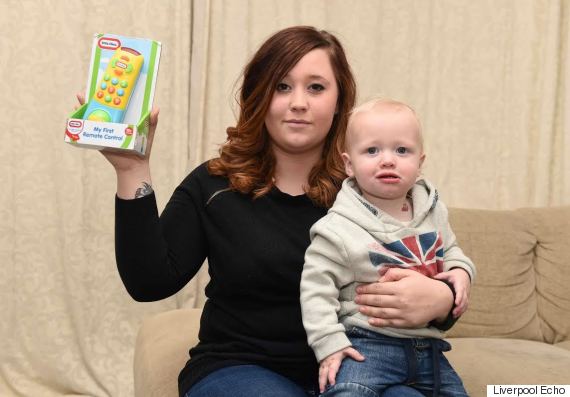 The mum-of-three is convinced the toy will teach her three-year-old to say f***
Senior, 24, from Merseyside told Liverpool Echo: "I posted the video because I thought it was quite funny at first but then when I thought about if my kids start repeating the words - well how can I tell them off if they learn it from a toy?
"I bought it for Lucas (aged one) but Jacob (aged three) plays with it too. He's at that age where he repeats everything he hears."
Senior bought the educational toy at her local Asda store.
The toy manufacturer said the French word for 'five' is 'cinq' and have insisted this is what is being said.
As well as the F word, Senior said another button sounds like 'tw*t', but has been told this is 'droit', French for 'right'.
A spokesperson for Little Tikes and Asda said, according to the Mirror: "The quality and performance of our products is our top priority and all our toys go through rigorous testing to make sure they meet UK and EU standards.
"This product is compliant with all tests and standards and the number five button is in fact saying 'cinq' which is five in French," the spokesman added.
"However, if a customer is ever unhappy with one of our products, we're happy to refund it."
SEE ALSO:

Parents Angry As Bunchems Toys Are Getting Stuck In Children's Hair

Christmas Presents For Children And Toddlers: 25 Toys And Games For Christmas 2015

Toys R Us Remove Gender Filter From Online Store After Discussions With Campaign Group Let Toys Be Toys