WARNING: GRAPHIC
A man reportedly wielding a knife has stabbed a man and injured two others in what appears to be a terrorist attack at a London Tube station. The suspect reportedly shouted "this is for Syria" and "all your blood will be spilled" during the incident.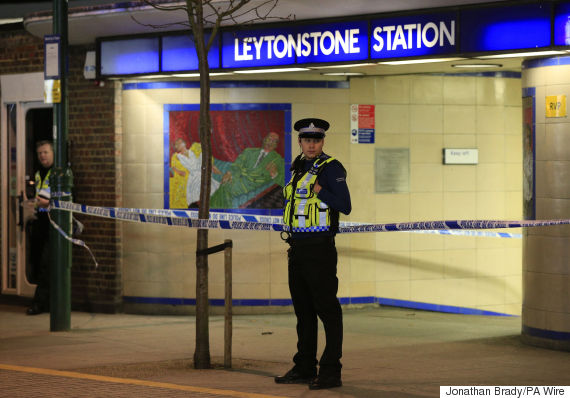 Police cordon off Leytonstone Underground Station in east London following a stabbing incident
READ MORE: #YouAintNoMuslimBruv Becomes Very British Response To Leytonstone Attack
The attacker is alleged to have slashed a person's throat before injuring two others. One video of the incident posted on Twitter shows a large pool of blood spattered across the ticket hall, and the alleged knifeman gesticulating at two people in the station, lashing out as they approach him. Uniformed police offers arrive and Taser the suspect.
In a second video, the suspect is pinned to the floor by two officers. A man in the background can be heard shouting at him: "You ain't no Muslim bruv." Another film shows terrified commuters, some with children, running away through the station.
Detectives are now searching an address in east London in connection with the incident.
pic.twitter.com/srZpJ7rCCI #You ain't no muslim ! credit to the #muslim that shouted that out. #Leytonstone #stabbing we don't want this shit

— Glen Tilley (@Footballtilley) December 5, 2015
< Additional footage from scene of stabbing in #Leytonstone tube station in #London - @BigTobzsf

December 5, 2015
#Leytonstone stabbing - another video https://t.co/2IuC1O4f6v pic.twitter.com/LXZctBn6XP via @Philhurley75

— Liveuamap World (@lumworld) December 5, 2015
#DontBombSyria - Man in #Leytonstone station stabbing people for #Syria. Like we said bombing Syria = More Terrorism pic.twitter.com/iQMMgABTHC

— Abu Hudhayfah (@AHudhayfah) December 5, 2015
The Met Police said they are investigating the attack as a "terrorist incident." The Met's head of Counter Terrorism Command, Commander Richard Walton, said: "I would urge the public to remain calm, but alert and vigilant. The threat from terrorism remains at severe, which means that a terrorist attack is highly likely."
For the rest of today, no service btn Liverpool St and Woodford / Newbury Park due to a police investigation. Severe delays on rest of line.

— Central line (@centralline) December 5, 2015
My thoughts are with the victim of the horrific stabbing in Leytonstone. Police were quickly on the scene and have arrested a man.

— Sadiq Khan MP (@SadiqKhan) December 5, 2015
Earlier, Scotland Yard said: "Police were called at 7.06pm on Saturday 5 December to reports of a stabbing at Leytonstone Underground station. The male suspect was reportedly threatening other people with a knife. Met officers attended the scene. A man was arrested at 7.14pm and taken to an east London police station where he remains in custody."
The spokesman continued: "A Taser was discharged by one of the Met officers. Officers from British Transport Police are now dealing with the incident at the scene. We are aware of one man having sustained serious stab injuries. We await details of any other injuries."
In a statement on Sunday afternoon, Commander Richard Walton, who leads the Met's Counter Terrorism Command (SO15), said: "I would like to thank everyone who has so far provided information to officers and to the Anti-Terrorist Hotline following this unprovoked violent knife attack last evening at Leytonstone Underground Station.
"As a result of information received at the time from people who were at the scene and subsequent investigations carried out by the Counter Terrorism Command (SO15), I am treating this as a terrorist incident.
"I am aware that there were a number of members of the public in the underground station who filmed the suspect on their mobile phones during and after the attack and I would urge them to come forward and speak to us and share with us the filming that they carried out.
"I would continue to urge the public to remain calm, but alert and vigilant. The threat from terrorism remains at severe, which means that a terrorist attack is highly likely."