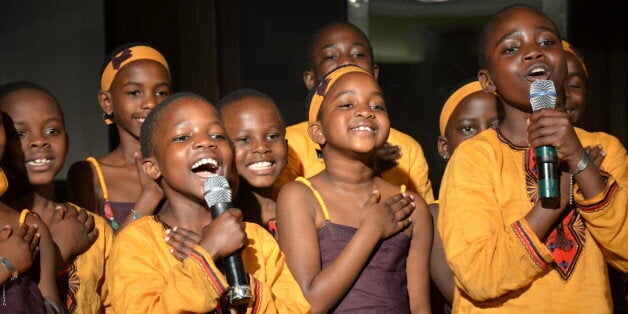 Remember those sweet young voices that joined in with the Commonwealth Band on stage for the Queen's Diamond Jubilee Concert back in 2012? Well, many of them belonged to the Grammy-nominated African Children's Choir, now the subject of their own moving and surprising documentary.
'Imba Means Sing' follows eight-year-old Moses, drummer for the choir. Born in the slums of Kampala, Uganda, to parents who couldn't afford to send him to school, Moses travels with the rest of the choir around the world to perform and find hope for a better life. He knows this is a once-in-a-lifetime opportunity both to secure his own future and change the course of his entire family's life. What follows is truly inspiring... and we have an EXCLUSIVE CLIP below.
The African Children's Choir is a large choir made up of children ages 7 to 12 from several African nations. Since its inception, the choir has included children from Uganda, Kenya, Rwanda, South Africa, Nigeria, and Ghana. Many of the children have lost one or both parents to AIDS and other poverty-related diseases, and all of them are victims of extreme poverty.
As they travel around the world singing to global audiences including the US president and HM The Queen, their performances raise money to fund each child's education through college, and they spread an awful lot of joy while they're doing it.
'Imba Means Sing', which previously won the Sundance Collective, Best Social Impact Film In-The-Making Award, is available now to view on more than 100 digital platforms, including iTunes. 100% of the filmmaker profits from the film will be donated back to the African Children's Choir to further help educate children across Africa.