Twitter is the sounding board for the world. If something significant is happening around the globe, the medium through which its story will be told will start, and end, with Twitter. 2015 was no different.
From the horrific terror attacks in Paris to the stunning New Horizon's flyby of Pluto, Twitter was the centre of every story sharing updates, pictures, and conveying the emotion of every moment.
Looking back at the last 12 months, Twitter has created the ultimate list of the top moments, hashtags, influencers and more that helped define 2015.
Most influential moments on Twitter 2015
While these moments were perfect showcases of solidarity from the whole globe, these were the individual tweets that really struck a chord with the world. While you might not agree with all of them, the retweets don't lie:
1. Harry Styles
All the love as always. H

— Harry Styles. (@Harry_Styles) March 26, 2015
2. Zayn Malik
Proud of my boys the new single is sick.

Big love. :) x

— zayn (@zaynmalik) August 1, 2015
3. Liam Payne
Wowwwww 5 years 5 boys what an amazing journey I couldn't thank you all ever enough and thank you Louis Niall Harry and zayn for everything

— Liam (@Real_Liam_Payne) July 23, 2015
4. President Obama
Today is a big step in our march toward equality. Gay and lesbian couples now have the right to marry, just like anyone else. #LoveWins

— President Obama (@POTUS) June 26, 2015
5. Louis Tomlinson
Our fans support really has been a different class ! Huge love to you guys !!

— Louis Tomlinson (@Louis_Tomlinson) May 7, 2015
6. King Salman
أيها الشعب الكريم : تستحقون أكثر ومهما فعلت لن أوفيكم حقكم، أسال الله على أن يعينني وإياكم على خدمة الدين والوطن، ولاتنسوني من دعائكم.

— سلمان بن عبدالعزيز (@KingSalman) January 29, 2015
7. Niall Horan
Happy birthday @Real_Liam_Payne .. Have a great day man .... Here we are making strange faces pic.twitter.com/VgZRN7VIPs

— Niall Horan (@NiallOfficial) August 29, 2015
8. Kanye West
Please: Do everything you possibly can in one lifetime.

— KANYE WEST (@kanyewest) September 23, 2015
9. Leonard Nimoy
A life is like a garden. Perfect moments can be had, but not preserved, except in memory. LLAP

— Leonard Nimoy (@TheRealNimoy) February 23, 2015
10. Caitlyn Jenner
I'm so happy after such a long struggle to be living my true self. Welcome to the world Caitlyn. Can't wait for you to get to know her/me.

— Caitlyn Jenner (@Caitlyn_Jenner) June 1, 2015
People, in particular celebrities, were at the heart of Twitter though with these individuals being the most followed in the UK.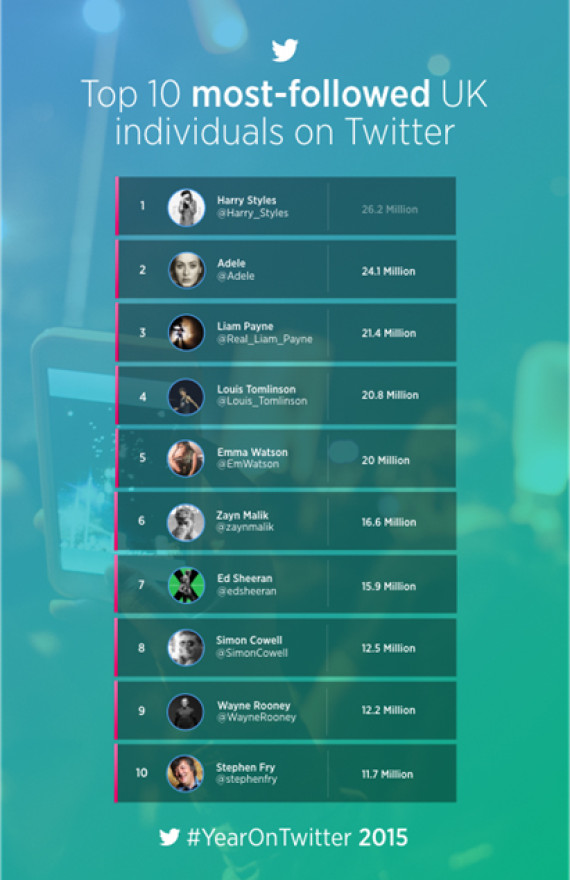 Twitter itself underwent some major changes throughout 2015. The company saw huge change as it brought back co-founder Jack Dorsey as its new CEO who almost immediately cut over 300 jobs from the company.
New features were at the heart of Twitter's year though which saw the arrival of Moments, a new tab that would summarise the news around the world into a readable collection of stories and tweets.
Controversially the company also made a massive change to the way we interact with it, replacing the much-loved 'Favourites' button with a new heart-shaped 'Love' button instead.