Controversial comedian Dapper Laughs is apparently still making enough money to produce a cringeworthy Christmas single - and there's a ridiculously bad video to prove it.
Dapper, real name Daniel O'Reilly, rose to infamy with a series of highly offensive jibes and incredibly sexist jokes, and for a while appeared to respond to the ensuing criticism with contrition saying the Dapper Laughs "brand" was dead.
But the Christmas single is the latest in a series of publicity stunts apparently aiming to bring Dapper back to life.
This GIF just about sums it up.
Dapper simulates oral sex in the video
The lyrics are just as bad.
The heating's broke and I'm always bloody cold,

My turkey stinks because it's two days old

Christmas time, no drinking wine,

Or time for gifts or snow

Santa never comes to Dapper's home,

So I say fuck it all
And get worse.
Christmas is whack,

It costs too much bloody dough,

To save a bit of money,

The girlfriend's gotta go,

My Christmas stocking's shit there's hardly anything in it,

It can't fit all the johnnies my mum nicked from the clinic
Watch the music video in full, above.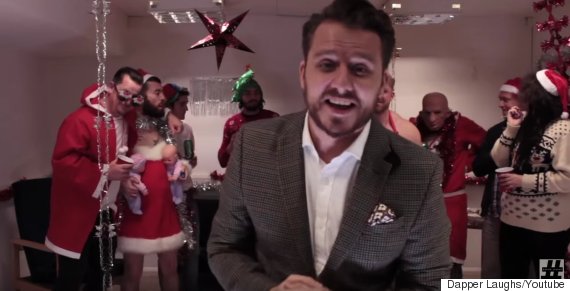 Dapper Laughs has recently said he is misunderstood
In an interview with HuffPost UK last month, O'Reilly spoke of his fan base and his popularity, answering critics who lament his style of humour.
He said: "My fans range from 16 year olds to 45-year-old couples and these journalists are writing as though people can't go to a comedy club and distinguish between what's true and what's funny. People were laughing at the vines, in the same way you'd laugh at Ali G. The audiences at my show are predominantly women, they laugh, knowing I'm saying, 'that's a twat.'
During the interview, O'Reilly lamented the perception of him being the "UK's pro-rape comedian".
READ MORE: