The 2015 General Election saw 176 MPs elected to the Commons for the very first time. In a series of exclusive interviews, The Huffington Post UK is speaking to MPs from the 2015 intake of the Conservatives, Labour and SNP. This week, it's Melanie Onn

When you are contesting a seat which your party has held consistently since 1945, you would think your long-serving predecessor would be nothing but an asset, right?
But the outgoing Labour MP for Great Grimsby Austen Mitchell seemed determined to give his hopeful successor in his seat, Melanie Onn, a bit of a sticky wicket to bat on.
Ahead of May's election, he colourfully sought to play down Ukip's chances of winning the seat by claiming that even if Labour selected a "raving alcoholic sex paedophile" they would still claim victory.
Grimsby girl Melanie Onn survived that intervention, and has marked herself out as a straight-talking, no-nonsense MP, alongside other new Labour colleagues including Jess Phillips and Wes Streeting.
A lover of karaoke, fish and chips and Spitting Image, Melanie is no stranger to the odd wrestling game on the Xbox. And she sounds quite competitive...
Here is Melanie Onn's 15 from '15:
1) Where were you born and raised?
I was born in Grimsby, I was raised in Grimsby. I live in Grimsby. I represent Grimsby. It sounds very linear that but when I was four I moved to London for a couple of years with my mum, to Manor House. After about two years I went back up to Grimsby and lived with my great aunt and she raised me. When I was 18 I moved back down to London and went to Middlesex University. I studied Politics, Philosophy and International Studies.
2) What did you want to be when you were 16?
I don't think I wanted to be anything specific. I just wanted a job. I don't think I was particularly fussy. When I was younger I wanted to be weird things: I wanted to be a paramedic, I wanted to be a pathologist – this is not all about things that begin with 'p' – although now I'm a politician. When I left university I wanted to go into charity work and I did work for Action for Blind People a little bit after university. I was always destined to go into something that wasn't about making loads of money.
3) When did you first become interested in politics?
Always. Strangely young. I'm 36 and I remember watching the news and seeing stuff around politics in the late 80s. Then as I was little bit older watching Spitting Image quite a lot and then being a bit more interested in the stories behind the headlines and the things that satirists were taking the mickey out of politicians for.
My great aunt was very steadfast in her views so everything was very much 'her way or nothing at all', so nobody else came into. She was an incredibly strong woman but never particularly opinionated about politics that I remember other than some Tories came canvassing once and she said: 'There's no point here because we vote Labour'.
At the time the Tories were in meltdown, every weekend the newspapers were running another scandalous story about the Tories. For me, very far removed from anything in a formal political sense, I was just thinking 'how on earth are those people running a country and deciding on everything that people do in their lives' and they just seemed to be absolute chaos. They can't get on with each other, they are breaking the law, preaching parliamentary protocol – which I say now, I probably didn't say that when I was 10.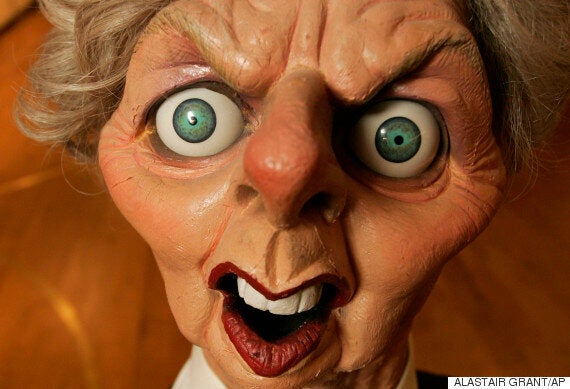 The Spitting Image doll of Margaret Thatcher
4) Do you have any political heroes?
Barbara Castle – my hair used to be dyed red so I said at hustings I was following in a line of fiery red heads. Her work in terms of women's equality and equal pay and driving that forward in an era when it was far down the political agenda, I think that was really impressive. Seeing how Parliament works now, and how you manage to stand your ground and still retain respect and good relations, or even if you don't have the good relations but people have a grudging respect for the work you are doing and the commitment to it, that's an impressive legacy.
5) Who is your favourite politician from another party who is currently active?
6) What did you do for a living before becoming an MP?
I was a trade union organiser. I worked for Unison in public services, predominately in the local government sector, so that covered carers, schools, libraries, colleges, and we campaigned for a living wage, we campaigned to protect public sector pensions. We campaigned for the real living wage, not the pretend living wage. Occasionally organising industrial action, which is not as easy as the Government would have you believe.
I think there's still a legacy around trade unions that they are not a force for absolute good because the Tory rhetoric sunk in: they had too much power, they brought Britain to a standstill blah, blah, blah. I joined a trade union when I was 20 and working at Tesco doing early morning shifts at six o'clock, doing other people's internet shopping for them and I joined Usdaw then, which I think is probably an unusual act for young people to undertake. While people's terms and conditions are being attacked, while their job security is at risk, I do think that they're a bit more concerned about what it means for them.
7) What do you do to relax?
I play WWE on the Xbox with my son, he's 8. He thinks he can beat me, but he can't.
8) If you could run any Government department, which would it be?
I would run DECC [Department of Energy and Climate Change]. It has particular significance, it's stuff I've been working on since I started and got on the Select Committee for Energy and Climate Change, it relates to my constituency quite heavily because we have a big renewables industry emerging there so if I could do anything that I thought would have some positive implications for my constituency then that would be the specific one.
9) What is the last book you read?
'Harry's Last Stand' was the last book I read and finished, but I've got about three others on the go, including novels. One called 'In The Night Circus' – I'm not entirely sure what's going on, which is probably why it's half-read.
10) Who is your favourite band/artist?
I go through phases. I usually like bands. I haven't got any new stuff recently. I do like Kings Of Leon. I like stuff you can jump around to.
11) Would you rather go on X Factor, Great British Bake Off or Strictly Come Dancing?
I love singing. I do karaoke, badly. I do loads of different songs, everything from Queen to recently a very poor rendition – because nobody else would step up to the plate and do it and it came on automatically – Whitney Houston. I can't remember which one. But I would go on Strictly for the sequins and boas. No brainer!
12) What has been the biggest change since becoming an MP?
I'm a lot more impatient and a lot more stressed, so not good things. More impatient at home, with friends and family.
13) What is the one thing you would change about UK politics if you could?
Parliament needs to be more family friendly if it's going to be representative of the population. There are really simple changes that the Government could introduce, like giving proper notice for timings of debates and votes. Small things like that would make being a parent or carer far more manageable for both MP's and the staff who work here.
14) What one reason would you give someone to visit your constituency?
15) What three words would your best friend use to describe you?