A mother was moved to tears during a trip to a café with her foster, when a stranger left a sweet note for the child with a bit of Christmas magic.
The card read: "For a well behaved little girl. We hope you have a merry Christmas. Santa is always watching.
"He sends people to let you know that you are on the 'nice' list. Here's a reward for being so good!"
The mum wanted to thank the stranger for their kind gesture and appealed to other Canberra Mums to share the story.
She wrote: "Dear Santa's little helper. On Tuesday you approached us while we were having a treat at Max Brenner [a cafe].
"You put an envelope on our table and promptly left, barely a word spoken. I could not hold back the tears when I opened the card you left and read your thoughtful words.
"You acknowledged the beautiful behaviour of my child, who sat quietly eating chocolate strawberries and chatting to me and my friend.
"What you couldn't have possibly known, is that the child you took the time to acknowledge has recently been separately [sic] from their birth family.
"Life for a foster child is not easy, but through your kindness you have shown this amazing child the spirit of community. As a foster carer, I can't tell you how much your gift of kind words means to us.
"Your random act of kindness towards us complete strangers has touched me deeply."
Chanel Mills wrote on the post: "Just to give you all a bit of background. The people who gave the card and money to this little girl are friends of mine.
"They decided with their children that instead of giving their four kids advent calendars, that they would do a good deed every day till Christmas Eve.
"These people always go above and beyond for others in need and are always the first to help where needed. They are truly a wonderful family and I just wanted to acknowledge them and their kindness."
The post has reminded many about the magic of Christmas.
One person commented: "That is beautiful. Restores my faith in humanity."
Another wrote: "I struggled to hold back my tears."
One person identified with how much this gesture would mean to a foster child, writing: "As an ex-foster child myself, I know how hard it is to be separated from family.
"This would have meant so much to this child to know that they are special and that they are loved. Kind things will happen when you least expect them."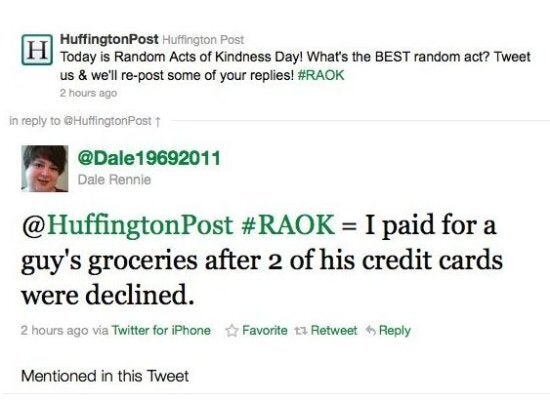 Random Act of Kindness Day