BBC News presenter Clive Myrie has suggested that British boxing champion Tyson Fury is "a dickhead" over his remarks about homosexuals and women.
The veteran newsman used the phrase during a live TV newspaper review - declaring "you cannot be a dickhead and win Sports Personality of The Year" - as the row continued over the World Heavyweight Champion's homophobic and sexist views.
More than 80,000 people have signed a petition calling for Tyson's removal from the shortlist for the annual TV award, which is due to be voted on by the public this weekend.
It emerged today that BBC Director General Tony Hall will be quizzed over the controversy when he appears before the Commons Culture Select Committee next Wednesday.
The boxer, who often cites his Christian faith, has compared homosexuality to paedophilia and declared that "woman's best place is in the kitchen and on her back".
During a discussion on BBC News Channel's The Papers on Monday night, Mr Myrie was asked by a newspaper reviewer if the BBC's award was judged on the basis of sport or personality.
"It's both," he replied. "It's after the watershed. You cannot be a dickhead and win Sports Personality of The Year Award".
"The question is, according to those people who are signing this petition, that he potentially is the latter. Even though he's an amazing sportsman."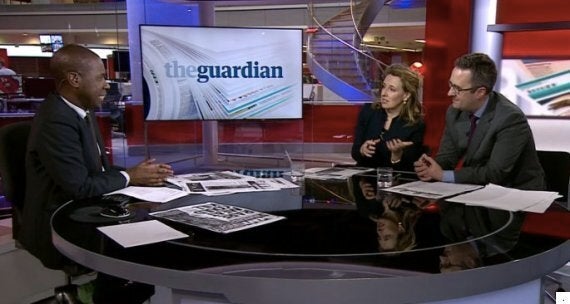 Clive Myrie on The Papers with reviewers Miranda Green and Christopher Hope
Earlier in the discussion, Mr Myrie said: "Having heard him interviewed, he does seem to be confusing 'a personality' with a good personality.
"Do you know what I mean? He's saying that he's won this fight and he's got a personality that's bigger than life and whatever. But there's a personality and there's 'a personality'."
The BBC today issued a statement, with a spokeswoman telling HuffPost UK: "We apologise to any viewers who were offended by the language Clive Myrie used during a discussion on the late night paper review on the News Channel."
But late night TV viewers reacted with delight at Myrie's remarks.
Fury last weekend won the WBA, IBF and WBO titles on 28 November from Wladimir Klitschko, who had reigned as world champion for 11 years.
The BBC said Fury's inclusion did not mean SPOTY endorsed his personal views.
The new world champion has previously said it would only take the legalisation of paedophilia in addition to the decriminalisation of homosexuality and abortion to see "the devil come home".
He also claimed that fellow SPOTY nominee Jessica Ennis-Hill "slaps up well".
"I love my women and what I said goes for my wife alone. She knows her place, I know her place. That's our culture of people," he said.
He added: "Let's not try and make me out to be some evil person and I hate gays because I don't hate anybody. I can actually say I don't hate anybody."