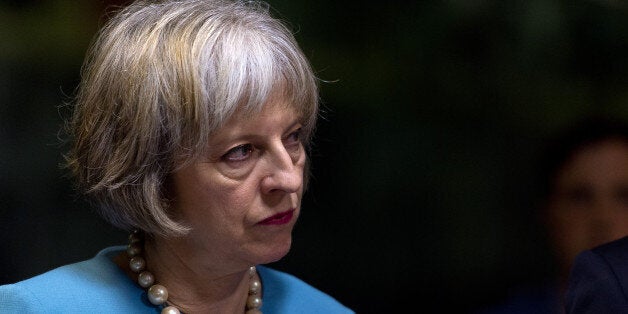 Theresa May has said Donald Trump is "absolutely wrong" to suggest police officers "live in fear" in radicalised London, telling him: "The police in London are not afraid."
Questioned by The Huffington Post UK, the Home Secretary said officers "go forward in the line of duty when they are required to do so to protect citizens" - but refused to be drawn on whether the businessman, TV and would-be US President and should be denied entry to the UK.
The US Presidential hopeful received universal condemnation after stating Muslims should be barred from entering the US in the wake of the California and Paris atrocities.
And he later added: "We have places in London and other places that are so radicalised that the police are afraid for their own lives. We have to be very smart and very vigilant."
But in her first public response amid calls to bar the property mogul from the UK, the minister said she would not "comment on specific cases".
Though she went on: "I can assure you that Donald Trump has got it absolutely wrong. The police in London are not afraid to go out and police the streets.
"They do a fantastic job for us day in, day out. We have seen police officers actually go forward in the line of duty when they are required to do so to protect citizens here in London and elsewhere in the UK."
Ms May, speaking at the launch of a modern slavery crackdown at the US Embassy, added: "Politicians should be very careful as we are dealing with the issue of terrorism, as we fight terrorism, we need to be bringing communities together. Bringing greater cohesion in communities, not seeking to divide."
David Cameron has already condemned Mr Trump's remarks, and the Mayor of London Boris Johnson has now gone much further, claiming that they are a bar to him holding the US Presidency.
"It's a free country and you can't stop people, unless he's guilty of a criminal offence."
Downing Street today made plain it felt Mr Trump was trying to rally his base, with the Prime Minister's spokesman saying: "The commentary that was made by Mr Trump was clearly playing to an American audience, ahead of the primaries in six weeks' time."