The final decision on whether to build a third runway at Heathrow Airport has been delayed until at least next summer, the Government confirmed on Thursday - despite assurances that a decision would be made by the end of the year.
Transport Secretary Patrick McLoughlin said there was a "clear" case for airport expansion "but it's vitally important we get the decision right" following a discussion between David Cameron and senior cabinet ministers.
McLoughlin said that ministers would "undertake more work on environmental impacts, including air quality, noise and carbon" and "continue work on all the shortlisted locations" - two at Heathrow and one at Gatwick.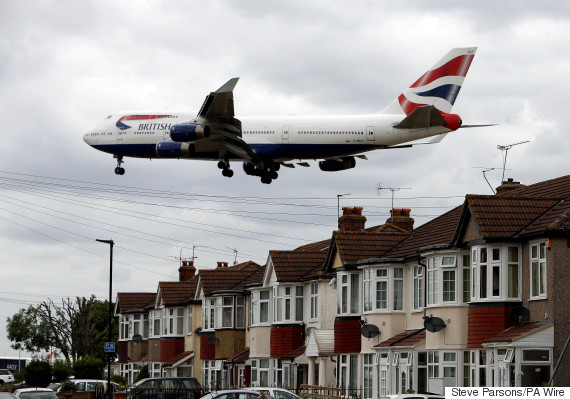 The decision over a third runway at Heathrow has been delayed
In July, the Davies Commission concluded that a third runway at Heathrow was the best option - if a string of measures were put in place to deal with noise and pollution - but left open the option of expanding capacity at Gatwick instead.
But building a third runway at the UK's busiest airport remains controversial.
Critics of the delay say that it is a politically inspired move to avoid damaging resignations by high-profile Tories - including London mayoral candidate Zac Goldsmith, who has vowed to quit as an MP if Heathrow is approved.
The contest to succeed current City Hall incumbent Boris Johnson - himself implacably opposed to the £18.6 billion third runway project - will take place in May, with Labour candidate Sadiq Khan also against Heathrow expansion.
In a statement issued after the meeting of the Cabinet airports sub committee, the Government said it backed the commission's call for more runway capacity by 2030 but faced a "complex and challenging decision on delivering this".
The statement added that the Airports Commission's air quality analysis will be tested using the latest projections for nitrogen dioxide, while "the best possible package" will be developed to mitigate the impact of expansion on local people and the environment.
Goldsmith claimed the delay was "good news for London".
He said: "I am absolutely delighted that, after much campaigning, the Government has heard the arguments, seen sense and will judge the options against an environmental test.
"We know that any airport expansion must meet our legally binding carbon, noise and air quality limits. There can be no doubt that in a fair contest on air quality, Heathrow will not win."
SEE ALSO:
Andrew Adonis, Chair of the National Infrastructure Commission, also welcomed the government's decision, saying: "It is right that the decision should be taken on the basis of the latest data on environmental impacts, and the government has committed to complete this work by the summer.
"It is vital that a decision on a new runway is now taken within months. A decision to go ahead in 2016 will make it possible to build the runway by 2030 as recommended by the Airports Commission, but any further delay beyond next summer will jeopardise jobs and growth."
But the news was not welcomed by everyone, with Labour MP Wes Streeting slamming the delay as "disgraceful".
Disgraceful decision re: #Heathrow. Party politics before national interest. Cameron can't even stand up to few Tory MPs. Weak. Weak. Weak.

— Wes Streeting MP (@wesstreeting) December 10, 2015
Speaking as Chair of the Gatwick Coordination Group of MPs (listed below), Crispin Blunt MP has lambasted the Government's indecision over its response to the Airports Commission recommendation for a new runway at Heathrow Airport.
And even more vociferous response came from Crispin Blunt, the Reigate MP who chairs the 'Gatwick Coordination Group of MPs' group. He said:
This is a disgraceful vacillation by the Government. They will richly deserve the opprobrium to be poured all over this shocking non-decision.

Sir Howard Davies's Airports Commission undertook rigorous analysis and extensive consultations before it made a clear, unequivocal and unanimous decision for Heathrow. Sir Howard said in his final report in July.

The Commission urges the Government to make an early decision on its recommendations. Further delay will be increasingly costly and will be seen, nationally and internationally, as a sign that the UK is unwilling or unable to take the steps needed to maintain its position as a well-connected open trading economy in the twenty first century.

We were promised a decision by the end of the year. Recently we were promised a direction. What we have is neither decision, nor direction, but political cowardice, weakness and prevarication. People will see through this pathetic effort to avoid criticism in the run-up to the London mayoral election. Zac Goldsmith should not be allowed to exercise a veto over the national interest.

We will fight tooth and nail any attempts to resurrect Gatwick, whose flawed and costly proposal was left dead and buried by the Airports Commission. It is not the easier option. It would not survive the scrutiny of Parliament and the courts. Gatwick would deliver half the economic benefit, has wretched rail and road transport connections, and would fail to provide the hub airport which the UK needs.
Heathrow anti-noise campaigner John Stewart, who chairs the residents' group Hacan, said the announcement demonstrates ''just how difficult it will be to build a third runway''.
''The last Labour government tried and failed. And now this Government has run into real obstacles," he said.
Heathrow chief executive John Holland-Kaye claimed he was "confident we can meet tough environmental standards".
He added: "We have support locally and nationally from politicians, business, trade unions and the aviation industry for Heathrow expansion. Let's get on and build a better future for Britain."
Channel 4 News descended into chaos after the delayed was announced.
During the live segment on Thursday night, Fatima Manji struggled to keep an interview together as guests clashed over the potential expansion.
@Channel4News this is proper car crash TV! Some mentaloids in a local pub with a mousy presenter... What could go wrong!

— Alex Jackson (@AlexJacksonKerr) December 10, 2015
Well handled, @fatimamanji Phew... A lot of angry feelings there! @jonsnowC4 @krishgm #c4news

— Britt Warg (@Britt_W) December 10, 2015
Calm down @Channel4News

— Kal S Dhindsa (@KhalSir) December 10, 2015
Bad idea to hold that #heathrow runway meeting in a pub........@Channel4News #c4news

— Bernieoc (@douwanttea) December 10, 2015
The shortlist of proposals being considered by the Government also features a plan to extend the existing northern runway at Heathrow to form the equivalent of two runways. The £13.5 billion proposal was put forward by Heathrow Hub, a consortium that includes former Concorde pilot Jock Lowe.
Lowe said a short delay "seems sensible" given the importance of the decision, and claimed the proposal for an expanded runway is "still very much in the game".
Meanwhile Gatwick wants to build a second runway at its airport, costing £9.3 billion.
Gatwick's chief executive, Stewart Wingate, said the delay was a "defining moment in the expansion debate" and claimed Heathrow's supporters must now realise that a third runway will never go ahead "as the environmental hurdles are just too high".
He went on: "We have always maintained that this decision is about balancing the economy and the environment. Expansion at Gatwick would give the country the economic benefit it needs at a dramatically lower environmental cost."