While US presidential-hopeful Donald Trump is keenly spouting pledges to send all Syrian refugees back home if he attains office, just across the border a rather more different tone is being set by the Canadian Prime Minister.
Justin Trudeau, newly-elected Liberal premier, today led by example when he attended the arrival of the first military plane carrying Syrian refugees to be resettled in Canada.
Before greeting them he posed with airport staff, who beamed and crowded around the Liberal leader, vying for selfies and a chance conversation with him.
Later, Trudeau greeted the 163 refugees who arrived yesterday, saying his country was "showing the world how to open our hearts".
The Liberal government has pledged to take in 25,000 refugees by the end of February next year; a total of about 300 Syrians will have arrived there by the end of this week.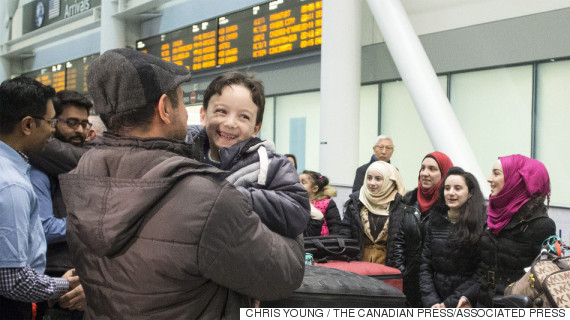 Six-year-old Ahmad Mazan Khabbaz, a Syrian refugee, smiles as he arrives with his parents and sisters
But a warm welcome is being prepared on other fronts too, with Canada's largest-circulation daily newspaper, the Toronto Star, running a a front page splash on Friday warmly receiving those fleeing their war-torn home nation.
An editorial from the paper read: "As 150 refugees land at Pearson today - among the first of the 25,000 - on behalf of the Star and our readers we say: Welcome to Canada."
The last sentence was also translated into Arabic.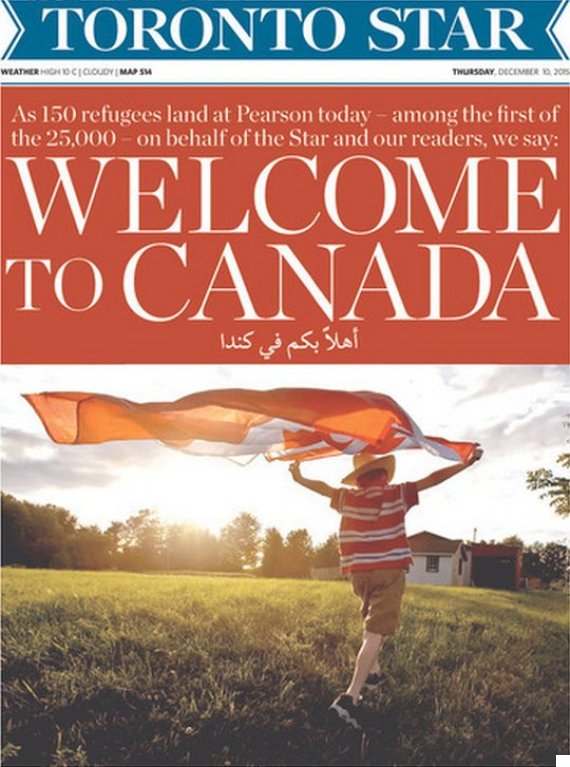 Friday's Tornoto Star splash
The move was widely praised, some suggesting they'd been genuinely moved to tears by the gesture.
This @TorontoStar cover page made me burst into tears (with happiness) this morning. #beautiful pic.twitter.com/WRpV5qsI2p

— Tatum Wilson (@tatumwilson) December 10, 2015
I love you, Canada. Today's front page of the @TorontoStar #refugeeswelcome pic.twitter.com/1Ks6q05e02

— Jessica Christian (@jachristian) December 10, 2015
One of #Canada's leading papers welcoming #refugees to their new home in their own language! Well done @TorontoStar pic.twitter.com/gwVXruYIJC

— Ayat El-Dewary (@ayateldewary) December 11, 2015
Thank you @TorontoStar for bringing tears of pride to my eyes. Welcome to Canada indeed ❤️ #cdnpoli #refugeeswelcome pic.twitter.com/CkgiatT6SY

— Steph Paige (@Steph__Paige) December 10, 2015
The tone is markedly different from that in the United States, where Republican frontrunner in the race to the Oval Office Trump is leading in the polls on highs of up to 48%.
His comments on Syrian refugees have proven divisive but popular among the American Right, and his pledge to expel all those who had successfully sought refuge from Syria has left his success intact.
READ MORE: