The five things you need to know on Friday December 11, 2015…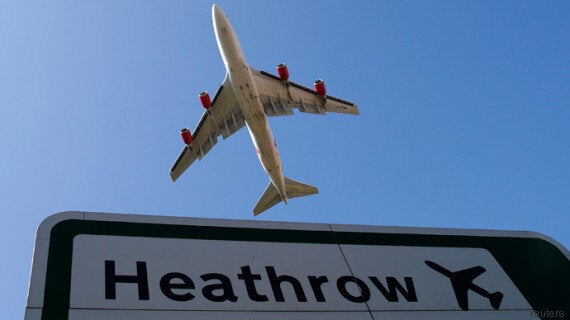 It's a big day for the environment, with signs that national delegations in Paris are close to an agreed text on combatting global climate change - talks are now set to extend into Saturday. And the 'environment' is of course the reason for the latest delay on aviation capacity for Britain.
None of this is good for the PM's claim on Monday that his was a government that 'delivers'. He famously said 'no ifs, no buts, no third runway' while in Opposition. And as recently as this summer he offered his 'guarantee' that there would be a decision 'by the end of the year'. Now it seems he really meant a decision to NOT decide.
The Government's announcement (to wait six months for a deeper emissions analysis on Heathrow) was expected - James Forsyth had the scoop in his Sun column last Saturday. But it has met with a predictable response: anti-Heathrow campaigners see a glimmer of hope, business just slams the delay as 'gutless'.
Yet it is blindingly obvious that the only reason is political not environmental. The new timetable is to get Zac Goldsmith out of a hole before the Mayoral elections in May. Zac has said this issue is so important he would quit as an MP - but NOT as Mayor - if Heathrow gets a new runway. Who says principled politics is dead, eh?
Transport Secretary Patrick McLoughlin just told the Today prog: "Hopefully we will make a decision next summer." Yep, 'hopefully'. Business will hope that the decision is just being tipped into 2016, but could it be kicked even further into the long grass? Until after the PM has gone in 2019? Stranger things have happened.
Cameron is also in danger of failing to 'deliver' on his welfare curbs in his EU renegotiation. Welfare restrictions on EU migrants are the "fourth basket" (dontcha love Whitehall jargon?) of his four areas for reform. But judging from the reaction of fellow EU leaders, there's a not exactly unexpected item in the bagging area: his four-year ban on migrant benefits may not be legal, let alone desirable.
The FT had a scoop yesterday that Polish officials said a 'deeply worried" Mr Cameron made only a weak effort to sell his idea to restrict in-work benefits for migrants for four years to their new PM Beata Szydlo. "He made a halfhearted attempt," said one official briefed on the talks. "But he knew [that the four-year curb] was off the table".
The Guardian reports that, in the event of a definitive failure to win agreement on the four-year ban, Cameron thinks he would feel able to say he has won substantial concessions if he wins agreement on restricting freedom of movement from future EU states, deporting more criminals, curbing access to housing. It's still unclear if Cameron will take the option of banning Brits from benefits for 4 years too, given even that may not be legal.
In the Telegraph, Fraser Nelson says Cameron is suffering from "early-onset Euro derangement syndrome: the notion that Britain can save the continent". He adds that without big reform, Brexit is drawing closer.
Jeremy Corbyn has been in Cumbria and Scotland but will be back in London for tonight's Stop the War Christmas fundraiser. Some journos have already bought tickets to the event, so it will be interesting to see if Stop the War try to vet those who turn up.
But the past 24 hours underlined again the deep divisions over Corbyn. His singing Happy Birthday to a tearful woman whose home had been flooded in Cockermouth was proof that he can connect with some voters. Ditto his speech to the Scots TUC rallied the party's core vote. On Question Time last night the Bath audience were the most Corbynista I've seen of any audience, aided by Mary Beard's backing for the Labour leader.
Yet as Michael Dugher suggests in his interview with The House magazine, it's not core votes, it's marginal and Tory votes that Labour needs. (He's in 'the votes business', he says). Dugher lets rip at Ken Livingstone and Momentum ('their aggression is matched only by their stupidity').
As for votes, all eyes are on Sadiq Khan in London next May. If he defeats Goldsmith, the Corbyn camp will say that's an even more impressive result than Oldham. And Corbyn's critics will say it's again nothing to do with Corbyn.
The Mirror has shrewdly splashed on the Tory government's plan to end council tenants' right to lifelong secure tenancies. The Guardian picks up on remarks from junior minister Marcus Jones (who kept the key marginal of Nuneaton don't forget) that the change "may well prompt some people who otherwise may not have thought about purchasing their own home to actually go forward and purchase their own home". This is precisely the kind of fight that unites Labour MPs of all stripes.
BECAUSE YOU'VE READ THIS FAR…
Donald Trump is just a news-magnet, and that's just the way he likes it. A new NBC/WSJ poll overnight found that 57% of people overall oppose his plan to ban Muslims from entering the US. But drill down and you find Republican voters back it by 42% to 36% who don't. Democrats and crucially 'independents' (the floating voters said to decide the elections) don't like the idea.
What was perhaps more worrying was that two major media organisations like NBC and the Wall St Journal could even ask for a poll question asking 'do you view Muslims favourably or unfavourably?' (The answer was All: 59% fav, 29% unfav; Dem: 75% fav, 14% unfav; GOP: 43% fav, 48% unfav; Indie: 59% fav, 25% unfav).
I can't recall any UK pollster, even as IRA bombs were going off, asking 'do you view Catholics/Irish people favourably or unfavourably?' Ask yourself why that never happened. And ask yourself whether any leading British politician could say this, as Republican contender Ben Carson did last night: "We should not seek to suppress the instincts of fear that Donald Trump and so many others feel when seeing a person who appears to be a Muslim."
Cabinet minister Greg Clark became the latest senior figure to condemn Trump, upping the ante for the Government by calling him an 'idiot' on Question Time. Our Ambassador in Washington Sir Peter Westmacott again rapped Trump after the tycoon said the UK was 'disguising' our 'massive Muslim problem'.
The petition to bar Trump from the UK has hit half a million. But Republican Senator Lindsey Graham, who has called Trump a race-baiter, put it best overnight when he said the better option would be to invite Trump to one of our universities and see him ridiculed in a debate with students.
Nick Boles yesterday risked turning into General Boles, but not in a good way. The minister's piece on ConHome made a strong defence of Andrew Feldman over the Mark Clarke bullying affair, declaring "The death of one good man will not be assuaged by giving into a media witch hunt and forcing another good man to resign."
Boles even had a jab at Newsnight, claiming it had "haemorrhaged its best reporters in recent weeks" and was "a sinking ship". This is precisely the kind of student politics and name-calling that seems to have got the Tories into trouble in the first place, rather than the considered concerns of a minister of the crown. (Though Newsnight has its own problems after BBC1 announced the 10 o'clock News would now run to 10.45pm).
But it was Boles line that "We will do nothing for Elliott Johnson by hounding Andrew Feldman out of his job" (cos Feldman had been great a fundraising) that sparked a backlash from Ray Johnson.
He told the Telegraph: "What an appalling man. It is a disgrace. He should apologise unreservedly for his comments because they are unsympathetic, ill thought out and seem to be very mercenary."
The Times has a story claiming Ben Howlett MP failed to act on some allegations. But the Sun has what could be a worrying story for No.10. It suggests senior Downing St figures such as Kate Fall (who took her Lords seat this week), Oliver Dowden (now an MP) and others were aware of a plan to use Mark Clarke as a 'hatchet man' to undermine a young Tory who had said controversial things about food banks. The Sun quotes 'a pal of Clarke' saying: "Mark always supported the Prime Minister and the Party Chairman whenever their closest staff asked for his help."
Our weekly HuffPost Politics podcast - Commons People - is up online HERE. Features sunbeds and votes at 16, Trump mania, an epic quiz and all the usual bantz from our team.
If you're reading this on the web, sign-up HERE to get the WaughZone delivered to your inbox.
Got something you want to share? Please send any stories/tips/quotes/pix/plugs/gossip to Paul Waugh (paul.waugh@huffingtonpost.com), Ned Simons (ned.simons@huffingtonpost.com), Graeme Demianyk (graeme.demianyk@huffingtonpost.com) and Owen Bennett