Women in Saudi Arabia are finally being allowed to vote - despite still being unable to do basic things like drive or open a bank account without a husband's permission.
While restriction remains extremely tight on what women can and cannot do, Saturday's poll will see more than 130,000 women cast their vote - compared with 1.35 million men.
Saudi Arabia was the last country in the world where only men were allowed to vote before today's historic poll.
Some 980 women and 5,000 men are running for seats on municipal councils around the country (the only publicly elected seats). These councils control things such as rubbish collection and street cleaning.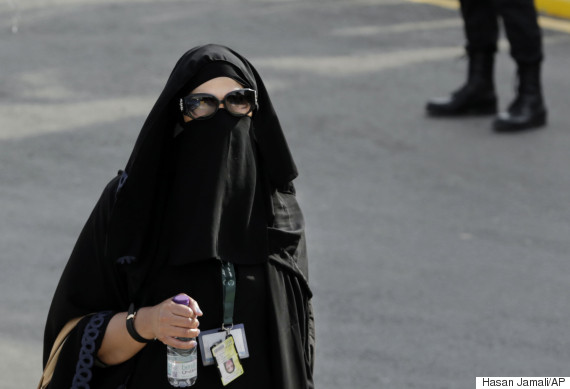 Women in Saudi Arabia are still subject to a range of restrictions
Not many women are expected to win seats because of the sheer number of male candidates and because many had no previous experience running campaigns. Many women said they also could not afford the high cost of running a public campaign, the Associated Press reported.
Hatoon Al-Fassi, general coordinator for the grassroots Saudi Baladi Initiative that worked closely with women to raise voter awareness and increase female participation in the election, said: "I don't consider winning to be the ultimate goal ... but it is the right of being a citizen that I concentrate on and I consider this a turning point."
She added: "We are looking at it as an opportunity to exercise our right and to push for more."
SEE ALSO:
This election is in fact only the third time in history that the extremely conservative country has gone to the polls, according to the BBC.
The decision to include women in the vote was made by the ate King Abdullah, who said before his death that Saudi women "have demonstrated positions that expressed correct opinions and advice".
Salma al-Rashed, the very first Saudi woman to register to vote, told the BBC: "It felt really good. Change is a big word but the election is the way to make sure we are really represented."
While many praised the decision to finally allow women to vote, many still noted that women's rights in Saudi Arabia continue to be sadly lacking…
Saudi women can finally participate in elections. Now if only they could drive to the polls. https://t.co/oBwJ5PowuA pic.twitter.com/J0AXlvwSTg

— Kenneth Roth (@KenRoth) December 11, 2015
#nofgm Saudi has let women vote niw what they need to do is let the women drive to the polling stations for themsrlves.freedom for women

— hibo wardere (@HiboWardere) December 12, 2015
The Saudi kingdom, where women are banned from driving&must cover themselves in public, is the world's last to give women the right to vote

— Tafadzwa Gilbért Káy (@GilbertKays) December 12, 2015
Women do not have full voting rights in Saudi Arabia. They're still not allowed to engage directly with male voters or candidates.

— Andrew Dandilly (@Andrew_Dandilly) December 12, 2015
Saudi Women to Vote for First Time: Saudi women can't marry, enroll at university or travel abroad without per... https://t.co/znqVxCZtGz

— Mui-kun (@ShigeMatsu007) December 10, 2015
The list of things women are unable to do in Saudi Arabia is extensive and varies depending on a range of factors, but for many includes things such as driving a car, going outside without a chaperone, competing freely in organised sport and interacting with men they are not related to.