'Independence Day' fans have been left bereft by the absence of former leading man Will Smith, as marketing for the new sequel to the 90s blockbuster explains his character's fate.
It was revealed last year that Smith would not be reprising his role in 'Independence Day: Resurgence', but now the sequel's trailer and website confirm the explanation given for his absence.
Smith's Colonel Hiller was apparently killed testing a new spacecraft designed using alien technology gained from their initial invasion.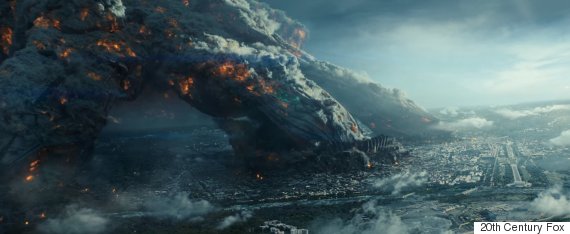 Watch the trailer in full, above
There are many familiar faces, however, with Jeff Goldblum, Bill Pullman, Judd Hirsch and Vivica A. Fox all reprising their original roles, alongside director Roland Emmerich.
And there are some new names amongst the cast, most notably Liam Hemsworth.
Nonetheless, fans have been quick to express their disappointment in Smith's absence.
It would have been great if we had Will Smith back in Independence Day Resurgence @IndependenceDay @IDResurgence

— Saurabh Annadate (@sannadate93) December 14, 2015
Independence Day 2 with no will smith tho

— Music Junky (@BreakTheCrown) December 14, 2015
The trailer for Independence Day 2 is total badass and I hope its good but there's no Will Smith :///

— εℓαrα (@eeelahruh) December 14, 2015
new @IndependenceDay trailer is boring. All u need to know is that the prez grew a beard, looks crazy and they killed off Will Smith.

— Evan Coan (@catintree) December 14, 2015
I really want Independence Day 2 to be awesome. However where did Will Smith go?!

— Lewis Somerscales (@LewisHammer) December 14, 2015
A marketing website for the film details what happened to Smith's character Hiller in the movie's fictional timeline.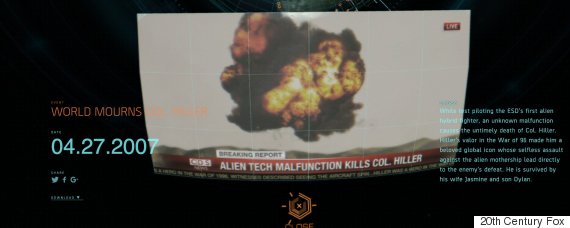 Smith's character is confirmed as killed in the new film's marketing
Under the year 2007, it reads:
"While test piloting the ESD's first alien hybrid fighter, an unknown malfunction causes the untimely death of Col. Hiller. Hiller's valor in the War of '96 made him a beloved global icon whose selfless assault against the alien mothership lead directly to the enemy's defeat. He is survived by his wife Jasmine and his son Dylan."
The plot of 'Resurgence' sees a world strengthened by the technology gleaned from the original alien invasion, and a massive Earth defence programme designed to protect against a possible future attack.
As it becomes apparent alien life forms have made their way onto Earth once more, a crack team of scientists and military go about securing the world's safety.
'Independence Day: Resurgence' is in American theaters on June 24, 2016, with a European release not long after.