The festive period brings food, drink and most importantly - sales, sales and sales.
You can expect the usual post-Christmas tradition - a stampede as the doors open to get to the sales first and general bargain-hunting madness.
Boxing Day sales normally spill over into January, as shops try to keep customers interested over the New Year period.
Sales on 25th December have grown by more than six-fold over the past five years. Orders are expected to peak at 8.52pm when many people will be picking up a bargain in the Boxing Day sales.
But with so much on offer, where to start? HuffPostUK has compiled the places you need to be for the best discounts this time around.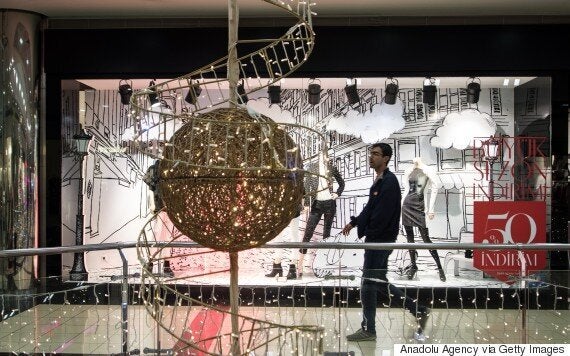 Well known for its incredible Boxing Day offers, Next usually open the earliest on 26 December with 6am starts being the norm. The retailer hasn't yet revealed its opening times across the board for 2015, but it's likely to be an early start.
Its sales are a huge draw for crowds and some stores have even witnessed avid shoppers queuing from the night before. We predict big discounts this year.
Amazon is always open and will never disappoint. This year it's already kicked off its Deal of the Day and Lightning Deals for the holiday season.
Shoppers will be able to snap up millions of pounds of savings as it unveils its biggest ever Boxing Day Deals Week sale, running from 4pm on Christmas Eve until 11.59pm on 31st December 2015.
More than 5,000 deals will be available, more than three times the number of deals offered last year, with an average of 35% off current Amazon.co.uk prices.
Amazon Prime members, including customers enjoying a free Amazon Prime 30-day trial, have an exclusive 30-minute early access period to all Lightning Deals.
The Arcadia retailer usually have a good selection on offer. Head to the bigger stores for a better selection of sale clothing (and more size options!). This year Topshop has up to 30 per cent off party wear lines.
Make sure you get there early to snap up the best - and most stylish - buys.
We can confirm that the retailer will be offering discounts of up to 50% across 1,500 items. Party sale clothing will be available from 19 December in store and online, accessories and footwear will be on sale from 22 December in store and online, the full online sale will be available online only from 23 December and the sale will continue in store from 26 December.
Last year's sale saw discounts of up to 60% across the store. This year Argos is offering half price on thousands of toys, as well as additional savings on TVs, games consoles and tech gadgets.
Its Boxing Day sale will begin bang on Christmas Day this year... so don't miss out.
Fancy grabbing yourself a tech-filled bargain? Then head to Currys PC World who will definitely be knocking down their prices. It hasn't confirmed its exact sales for Boxing Day yet - but we're sure it won't be a disappointment.
Stores will be opening at different times dependent on location, with its Oxford St store opening at its normal time of 9:00.
Forget Boxing Day, why wait? Well, that's what M&S were saying anyway. Their sales begun early last year with 50% off champagne.
This time around Marks and Spencer is offering up to 30 per cent off womenswear, menswear and children's clothing, so go grab yourself a bargain.
Elsewhere Debenhams has half price gifts and womenswear and Gap, Banana Republic and Kurt Geiger have all started winter sales with up to 50 per cent off lines.
Other retailers you can expect to find reducing prices include: ZARA, Primark, Dorothy Perkins, H&M and Game.