Hayden Daniel died shortly before Christmas last year, when he was just a few days away from turning six months old.
With the anniversary of Hayden's death approaching, his father Kyle Daniel, from Georgia, America, took a framed picture to a shopping mall to get a photo of Hayden on Santa's lap as a gift for his wife, Sasha Daniel.
"This will be our second Christmas without Hayden. The first one we were still pretty numb from losing him," Daniel said in a Facebook video.
"That Christmas just didn't feel like Christmas, the day just came and went, it really didn't mean anything."
"Walking in to get the photo taken wasn't easy," added Daniel. "It was definitely something I wanted to have done though."
The man in the Santa suit was Caleb Sigmon, a 22-year-old actor who has been "helping Santa" for many years.
Sigmon took to Facebook to share the moment he met Daniel.
"A man walked in today holding something in his arms," wrote Sigmon.
"'I have a request,' he said, turning around this picture frame.
"He took a moment. 'My son passed away, last year.' He choked up and couldn't finish his sentence.
"The entire photo set was silent.
"I said, "Absolutely." Without anyone saying anything, he handed me the frame and I placed it on my knee.
"The camera snap was the only sound I could hear through the entire mall. Normally, I hear all kinds of music and sounds, but it was absolutely silent."
When Daniel took out his wallet to pay for the photos, Sigmon told him to put it away as the photos were a gift.
"He grabbed my hand and pulled me in and hugged me, then turned around and left," wrote Sigmon.
"As he walked out, we all had tears in their [sic] eyes.
"I'm sharing this to remind us all that Christmastime is unbelievably hard for some families.
"Pray for the brokenhearted. Smile at people. Just be kind. Love one another."
Hayden Daniel with his parents Kyle and Sasha in July 2014
He also uploaded a video update to share how he and his family are getting on.
"It was a good thing that Caleb was the one there because he made it easy for me and I'm very grateful to him for that," Daniel said.
Daniel added that he and his wife, who is pregnant with their second child, wanted to thank everyone for sharing Hayden's story and for their kind comments.
"Thank you to everybody for the prayers," said Daniel. "I hope you all have a merry Christmas and a happy New Year.
"Enjoy your little ones, remember those who are no longer here with us and just be nice to people, that's all we want."
"You were so perfect. Your half heart made ours whole," Hayden Daniel's parents wrote on Facebook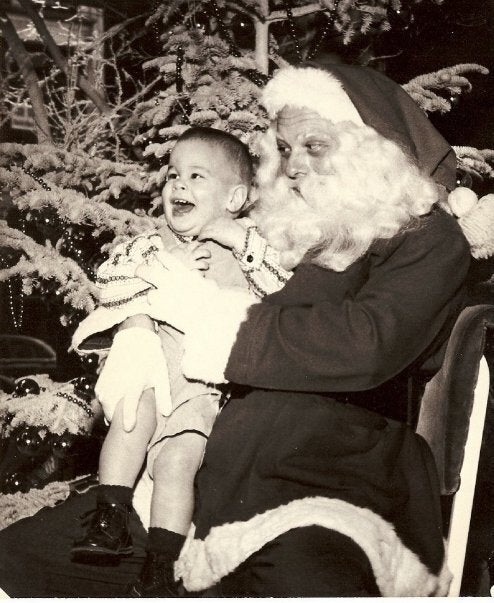 Family Takes Pictures With Santa Every Christmas For 60 Years