A man was hospitalised after a bag fell out of an overhead locker and struck him on the head as he waited to take off at Heathrow Airport.
The British Airways passenger reportedly fell to the floor after the accident, which occurred on Monday, as the plane prepared to leave for Bangkok, Thailand.
Paramedics were called to Britain's busiest airport and the man was taken to Hillingdon Hospital where he was treated for a head injury as a priority patient, the London Ambulance Service confirmed. The man was discharged on Tuesday.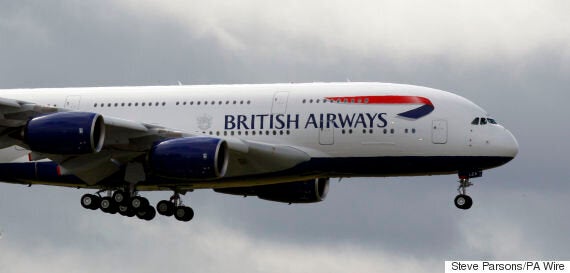 A man was hospitalised after a bag fell out of an overhead locker and struck him on the head prior to take off on a British Airways flight
The ambulance service said they were called to Heathrow Terminal 5 at 3.09pm, following reports a person had fallen.
A spokesperson added: "We sent a cycle responder and an ambulance crew to the scene.
"We treated a man for a head injury and he was taken to hospital as a priority."
Hand luggage, weighing up to 23kg and 51lbs, can be taken on to British Airways flights, but passengers must be able to lift their own baggage, unassisted, into overhead compartments, according to the airline's website.
A witness to the accident said there was a "terrible sound" as a heavy bag landed on the man's head, before he collapsed.
A source told The Sun: "The passenger was getting ready for the flight when suddenly the overhead locker burst open and a heavy-duty bag landed on his head.
"There was a terrible sound on impact and he collapsed. It was a freak accident."
A spokesman for BA confirmed the plane was stationary when the incident happened.
A statement from the airline said: "We take the health and safety of our customers very seriously and our cabin crew receive extensive training to deal with incidents on board.
"Our crew cared for a customer who was injured after boarding the aircraft. He was taken to a local hospital and we wish him a speedy recovery."
"He was taken to a local hospital and we wish him a speedy recovery."