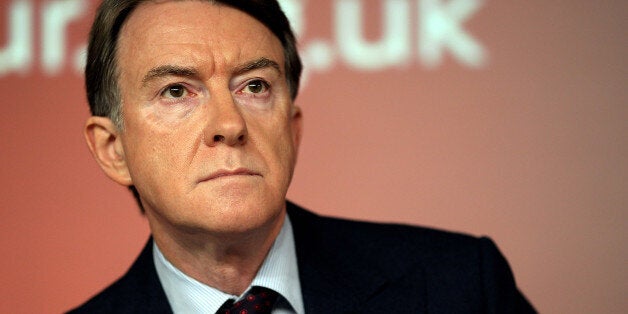 Neil Kinnock and Peter Mandelson have sought reassurances from Jeremy Corbyn over fears of MP deselections and long-standing 'moderate' members quitting the party.
The former Labour leader and former Cabinet minister voiced their concerns at a packed meeting of Labour peers in the House of Lords this evening, HuffPostUK can reveal.
In the most aggressive intervention of the gathering, Lord Mandelson warned that 'there are now two Labour parties' - one made up of the traditional 'family' and one of new left-wing activists who had joined in the Corbyn surge this summer.
The former Business Secretary and key ally of Tony Blair and Gordon Brown also claimed that 30,000 'long standing' members had left the party in recent months, hinting that was in protest at the new leftward direction under Mr Corbyn.
Lord Mandelson told the meeting: "30,000 long term members have left the Labour party - real members of the Labour family, tens of thousands.
"There are now two Labour parties...What are you going to do about it? How are you going to reach out?"
Mr Corbyn insisted in his reply that the party was now more 'vibrant' than ever before, adding "I condemn abuse" and welcomed "open debate" that was happening because of the tens of thousands of new members.
Party sources dismissed claims from former No10 aide Theo Bertram that 15,000 members had quit in just one month. "Not true," said one source.
Although upto date figures have not been released recently, Labour has around 200,000 more members now than it had at the time of the May general election. And around 60,000 are thought to have joined since Mr Corbyn's victory in September.
At the final meeting before Christmas - attended by more than 130 peers - Lord Kinnock made plain his own worry that all his work reforming the party in the 1980s risked being undone by deselection of sitting MPs by left-wing activists.
The former leader, who together with Lord Mandelson reshaped the party's policy and image in the 1980s and 1990s, said that Labour MPs should be "focused" on policy development and effective opposition but feared they could be destabilised.
Adding that whilst 'accountability' to rank and file members was essential, he asked Mr Corbyn to confirm that he'd resist changes mandatory deselection - and also if he would maintain the current six-month full membership requirement for those selecting council and Parliamentary candidates.
Mr Corbyn replied that he had "no intention" of changing the selection system or the six month 'quarantine' rule for new members.
The Labour leader was also challenged by Lord Hunt of Chesterton, the father of Tristram Hunt, over worries that Labour could go back to the 1980s if it junked its Trident policy.
Peers told HuffPost UK that the meeting was largely constructive, with former MPs Alan Howarth and Bryan Davies praising Mr Corbyn for the big increases in new members in their local parties.
However, Lord Davies - a former Oldham MP - expressed concern that both working class and middle class white voters in the recent Oldham West by-election viewed Labour now as 'a London thing' not in tune with their values.
He added that Asian voters backed the party in big numbers to simply stop UKIP, suggesting that neither voting group was endorsing the leadership in the by-election.
Related