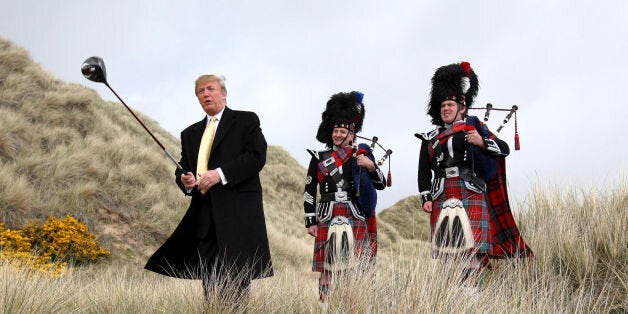 David Cameron has said Donald Trump's call to ban Muslims entering the US was "divisive, stupid and wrong" - but the Presidential hopeful would not be barred from coming to the UK.
At Prime Minister's Questions, Mr Cameron said the US property mogul would "unite us all against him" if he visited Britain when quizzed on his controversial remarks in response to the California and Paris terror attacks.
Mr Trump made the comments last week but reiterated the sentiment last week. George Osborne, Theresa May and Boris Johnson have all condemned the comments but this was the first time the PM has publicly responded.
In the House of Commons, Labour MP Tulip Siddiq called on Mr Cameron to invoke legislation to bar people who are "not conducive to the public good". "The law should be applied to equally to everyone," she went on. "Should we be making exceptions for billionaire politicians?"
In response, Mr Cameron hailed Britain as "one of the most successful, multi-racial, multi-faith, multi-ethnic countries anywhere in the world".
He added: "It is right we exclude people when they are going to radicalise or encourage extremism. I happen to disagree with her about Donald Trump. I think his remarks are divisive, stupid and wrong and I think if he came to visit our country I think he would unite us all against him."
Last week, Home Secretary Mrs May refused to be drawn on whether the businessman, TV and would-be US President and should be denied entry to the UK.
But she said Mr Trump was "absolutely wrong" to suggest police officers "live in fear" in radicalised London, telling him: "The police in London are not afraid."
Questioned by The Huffington Post UK, the Home Secretary said officers "go forward in the line of duty when they are required to do so to protect citizens" - but r
After stating Muslims should be barred from entering the US, he later added: "We have places in London and other places that are so radicalised that the police are afraid for their own lives. We have to be very smart and very vigilant."
Mrs May said: "I can assure you that Donald Trump has got it absolutely wrong. The police in London are not afraid to go out and police the streets.
"They do a fantastic job for us day in, day out. We have seen police officers actually go forward in the line of duty when they are required to do so to protect citizens here in London and elsewhere in the UK."
She added: "Politicians should be very careful as we are dealing with the issue of terrorism, as we fight terrorism, we need to be bringing communities together. Bringing greater cohesion in communities, not seeking to divide."
Mr Cameron's spokeswoman had already condemned Mr Trump's remarks, and the Mayor of London Boris Johnson went further, claiming that they are a bar to him holding the US Presidency.
"It's a free country and you can't stop people, unless he's guilty of a criminal offence."
Downing Street today made plain it felt Mr Trump was trying to rally his base, with the Prime Minister's spokesman saying: "The commentary that was made by Mr Trump was clearly playing to an American audience, ahead of the primaries in six weeks' time."
Popular in the Community