Sarah Vine's latest column in the Daily Mail, titled 'women love sleep far more than sex', has led many to believe it offers an "embarrassing" insight into Justice Secretary Michael Gove's antics (or lack there of) in the bedroom.
Wednesday's article sees the journalist describe the pleasures of slumber over sexual intimacy.
"There are vast chunks of a woman's life when surrendering to the pillow and duvet is infinitely more enticing a prospect than a night in the arms of even the most accomplished lover," Vine writes.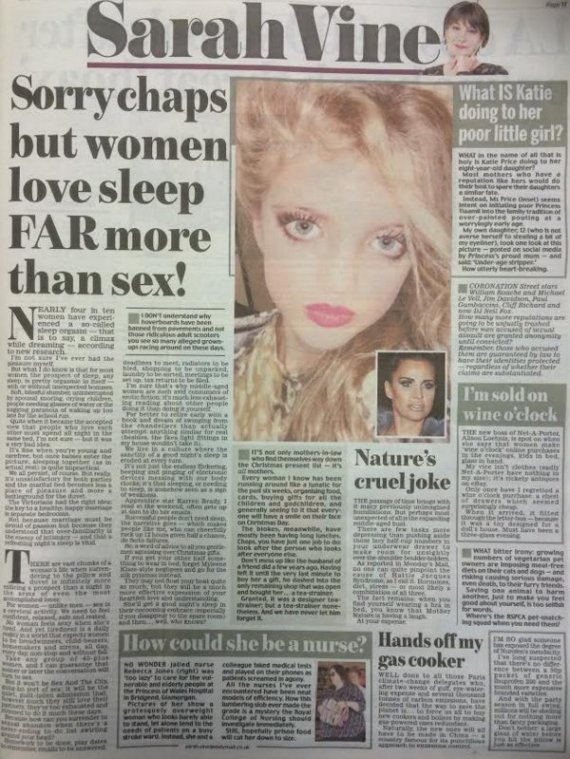 Sarah Vine's column in the Daily Mail on Wednesday
She added: "I'm sure that's why middle-aged women are such avid consumers of erotic fiction: it's much less exhausting reading about other people doing it than doing it yourself.
"Far better to retire early with a book and dream of swinging from the chandeliers than actually attempt anything similar for real (besides, the Ikea light fittings in my house wouldn't take it)."
Readers were amused that Vine, the wife of a government minister, had written a column about lacklustre sex and how sleep was much more valuable - and often enjoyable - to women.
Some, perhaps cruelly and predictably, said that Vine's position was understandable, given who her other half is:
I'd want to sleep forever if I was married to Michael Gove. pic.twitter.com/tVGNisBcxO

— Mr Pebbles (@Pseudo_Spam) December 15, 2015
Women love sleep more than they love sex with Michael Gove. I can understand this. https://t.co/llXM6awt4v

— ganglesprocket (@ganglesprocket) December 15, 2015
As Sarah Vine is married to Michael Gove, her viewpoint is entirely understandable. pic.twitter.com/cjaa7CmBOk

— Martin Baker (@ytfcbadger) December 15, 2015
Given that Sarah Vine is married to Michael Gove, this is possibly an unsurprising conclusion for her to reach pic.twitter.com/sDsgj34yYV

— David (@davidofsussex) December 15, 2015
Many people saw the funny side to what Vine had written in her column:
Michael Gove's wife prefers sleeping to sex. This joke writes itself, doesn't it? pic.twitter.com/kzYAuemHLg

— Paul Kirkley (@prkirkley) December 15, 2015
Hilarious unintentional giveaway - Sarah Vine (Michael Gove's missus) says in the Mail "women enjoy sleep more than sex". Oh dear, Michael..

— Robert Rea (@robertrea) December 15, 2015
And others wondered what Gove made of his wife's latest Daily Mail offering:
Ever wonder why Michael Gove looks so glum? Headline on wife Sarah Vine's Mail column: "Sorry chaps but women love sleep FAR more than sex!"

— Kevin Maguire (@Kevin_Maguire) December 16, 2015
I do sometimes wonder what Justice Secretary Michael Gove feels about his wife's Daily Mail column... pic.twitter.com/pmESD8eBfj

— Pippa Crerar (@PippaCrerar) December 16, 2015
And one person posted an image that will stay with us all day:
@jimwaterson And for those final female waverers, the denouement, #MichaelGove's sex face pic.twitter.com/6astiZoFRK

— Sean Callaghan (@keanespirit) December 15, 2015
On Monday, Vine upset readers when she criticised the Duchess of Cambridge's appearance while on a shopping trip.
Readers turned on the newspaper after it used unflattering paparazzi photos to suggest Kate Middleton was struggling to cope with the pressures of motherhood.
SEE ALSO: