A family has divided the internet with their rather unusual Christmas card portraits.
Natalie Yoshida, 21, posed for two family photos with her sister, mum and dad.
While the three women appeared wearing shirts with the word "Ho" written on them, Natalie's father wore a t-shirt emblazoned with the words: "Chillin with my hos".
Natalie shared their unique Christmas card on social media where it has been called both "creepy" and "hilarious".
On Imgur response to the photos has been largely negative with many accusing the parents of acting inappropriately.
"Well this creeps me right the fuck out," user @SanSamis said.
User @LukeDogg added: "This is disturbing."
But on Instagram the response to the photos has been rather more positive.
"I always want to do something like this with my fam, love it," @cassandra_craven said.
User @cubicfuzzball added: "Hilarious have a great Christmas and New Year!"
On social media Natalie, has insisted that the photos were her idea although her sister Rachel, 19, was equally excited about the Christmas photoshoot.
"Not one person who knows us in real life has 'hated'. Everyone who is 'hating' is seeking offence in an obvious joke."
What do you think of the family's Christmas portrait? Let us know in the comments below or tweet us @HuffPoLifestyle.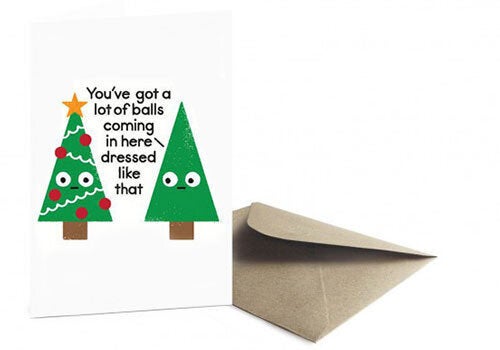 Funny Christmas Cards