Jacobs, from Lyneham, Wiltshire, was reported missing on December 12 and was last seen at a restaurant on the island of Ko Phi Phi Don on Saturday. He later told his family that he was being held against his will.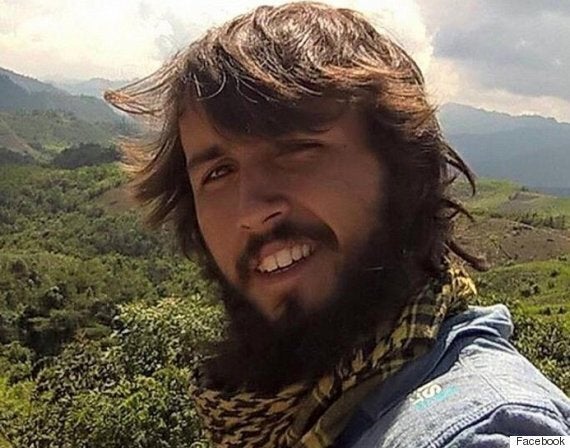 Jordan Jacobs, 21, has reportedly being found safe and well
The BBC reported that Thai police had told them that Jacobs was found in Krabi.
The broadcaster also quoted Wiltshire Police as saying it had been in contact with Jacobs family to say he had been located and was fine.
Speaking to The Telegraph on Thursday, Jacobs said that he had "perhaps been having a bit too much fun", and, because he was without a phone charger for a few days, had no idea that his family were worried.
The Foreign Office said Jacobs, 21, was located by local authorities on the popular tourist island of Koh Phi Phi.
A spokeswoman added: "Our embassy staff have spoken with him to check on his welfare and we will remain in contact with his family to provide any further assistance required."
On Saturday Jacobs was said to have messaged his mother on Facebook saying he would never see them again and that he was sorry he couldn't have said goodbye.
He was then urged to get in touch and a few hours later he phoned his mother telling her a Thai man would not let him leave the island.
In a Facebook post his sister Emily Jacobs said it is believed her brother accepted a free ride to Ko Phi Phi Don from a Thai man he met near a laundrette close to the Pak Up hostel, in the Krabi district of the mainland.
Later, he borrowed a phone from a Cypriot traveller and made contact with his family.
Jacobs' sister told the Mail Online: "Saturday morning my mum received a message via Facebook from my brother which basically said he can never see us again, that he is sorry he can't see us one last time, that he loved us etc.
"He was upset and said that the man wouldn't let him leave. That he was scared of him.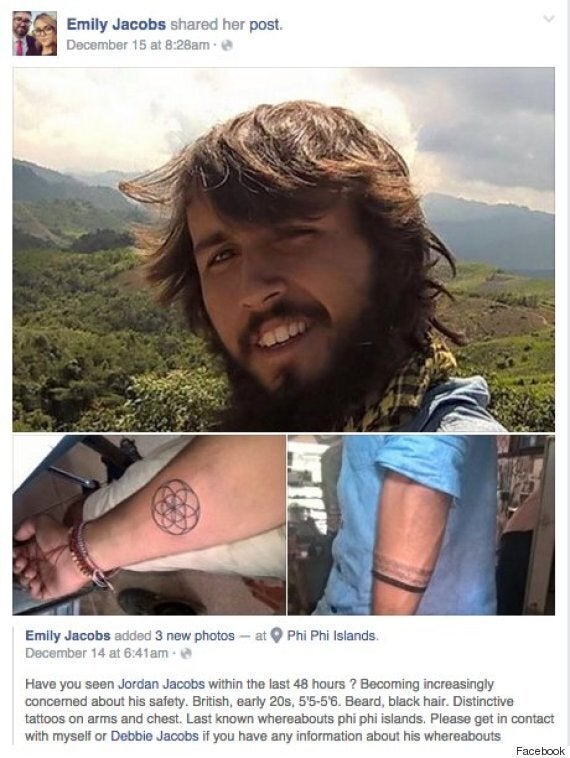 A message seeking help from Emily Jacobs on Facebook
"This is not like my brother. Only last week he was talking about coming home for Christmas."
In a brief phone call on Monday, Ms Jacobs told the Mail her brother wouldn't tell her where he was, because he needed to "keep you all safe". He ended the call by saying that he had "said too much. I can't talk. I love you."
The missing Brit had been travelling in Australia and south-east Asia since November 2014 and was due to return home on Thursday to spend Christmas with his family. His flight was reportedly due to leave Bangkok on Wednesday.
A spokesman for the Foreign Office confirmed Jordan Jacobs had been reported missing in Thailand on December 12, and said his family were being provided with consular assistance.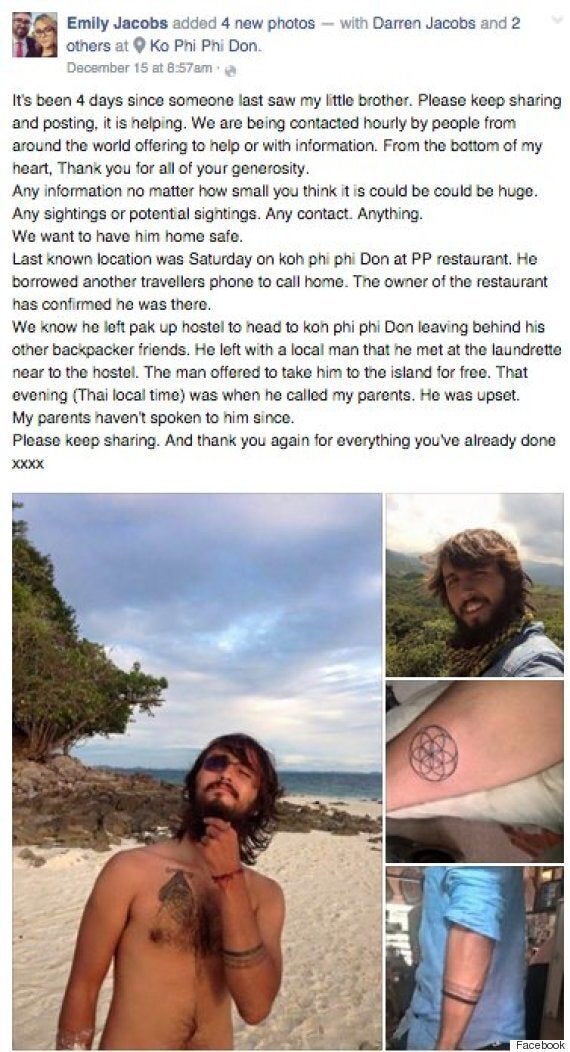 Another appeal Emily Jacobs posted on Facebook seeking help to find her younger brother
In her Facebook post, Ms Jacobs said: "We are being contacted hourly by people from around the world offering to help or with information. From the bottom of my heart, Thank you for all of your generosity.
"Any information no matter how small you think it is could be could be huge. Any sightings or potential sightings. Any contact. Anything.
"We want to have him home safe."