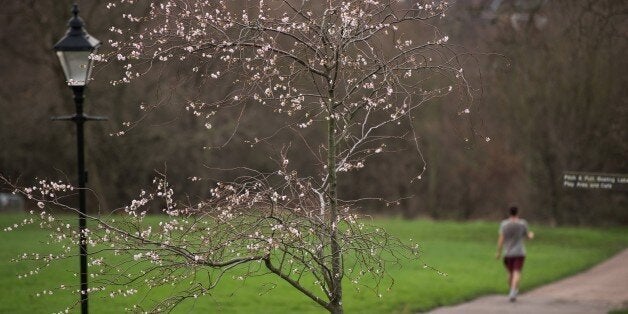 December could be the mildest across a large part of England since records began more than 350 years ago, forecasters have said.
The warmest average for the month under the Central England Temperature series was 8.1C in 1934 and 1974, said MeteoGroup senior forecaster Julian Mayes.
"The average this month is currently 9.3C - so well above, though we do think temperatures will come down a bit from Sunday," he said. "But there is still a chance that the record will be broken."
The Central England Temperature series records the day/night average and began in 1659.
Friday saw slightly lower temperatures than Thursday - but they are due to rise again on Saturday.
The reading at St James's Park in central London was 14C instead of 16C, for example, with air coming from a slightly different direction.
Mr Mayes said the highest December temperature recorded in London was 17.2C - and that could be threatened on Saturday.
"We are looking at maximum temperatures of 16C to 17C, from London up to East Anglia and the East Midlands," he said.
"There's just a chance of breaking the London record tomorrow - it's not really been warm like this in December going back over 100 years."
A band of tropical air coming off the Atlantic from the south west is behind the unseasonal conditions, and temperatures have been edging towards the all-time December high of 18.3C, set on December 2 in 1948 in the Highlands.
The weather has been so mild that daffodils have been flowering as far north as Chester, and in Northern Ireland.
The Met Office has said it is the fourth mildest start to December across the UK since 1960.
The month has also been characterised by wet weather in the north west.
Areas such as Snowdonia and the Lake District have seen rainfall of 500mm (nearly 20 inches) in the month so far - almost equivalent to a year's worth of rain for London and East Anglia.